104-year-old Bill White, who is a WWII veteran, is asking the public for Valentine's Day cards this year! He wants to add to his collection of keepsakes that he has built up over the years, as it reminds him of his incredible life. Bill served in the Marine Corps during World War II and also survived the Battle of Iwo Jima in 1945. He says that one of his most cherished medals to date is his Purple Heart, which was given to those who were wounded or killed in combat.
"The fact that I even survived is something. There weren't too many of us," Bill recalls. He was near the front lines of battle back on March 3, 1945. A grenade exploded just six inches away from Bill and the other Marines. His injuries would sadly take him off the battlefield so he could recover. But, he was able to recover quickly and get right back to it.
Bill White is asking everyone for Valentine's Day cards this year to add to his collection of life's keepsakes
https://www.facebook.com/photo.php?fbid=3637100832974734&set=a.2513231695361659&type=3&theater
Bill stays active at his assisted living home in Stockton, California. He often likes to dine with friends and work on his scrapbooks. He organizes his scrapbooks along with his medals, sorted out by year. "It's kept me busy just trying to locate or keep track of what's happened to me, where, when," he says. Now, he hopes to add to this collection by earning tons of Valentine's Day cards.
RELATED: These Twin WWII Veterans Just Turned 100 Years Old
"I'll save every one of them like I've been saving little things that have come up until right now and they'll be a personal part of my history," he tells Fox 40.
Where you can send cards to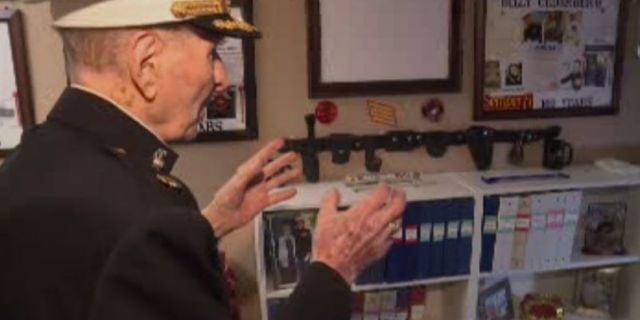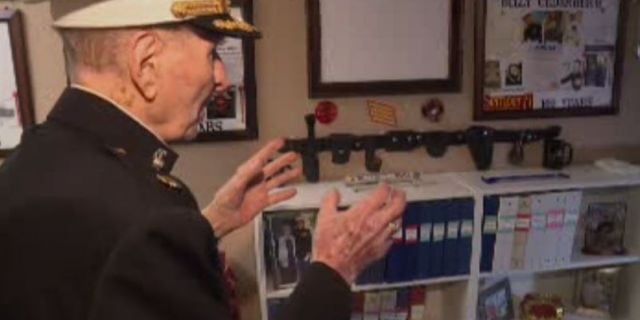 When asked about his secret to a long life? Bill says, "just keep breathing." He continues, "I can't think of anything else. I can give you all sorts of ideas and suggestions but if you're not breathing, they don't mean anything."  If you'd like to send Mr. White a Valentine's Day card this year to help him build his collection, send it to the address below!
Operation Valentine
ATTN: Hold for Maj Bill White, USMC (Ret)
The Oaks at Inglewood
6725 Inglewood Ave.
Stockton, CA 95207