Ricky Gervais was the host of this year's Golden Globes and he made headlines for tearing into Hollywood actors, directors, and producers in the audience. He didn't hold back when making jokes about Leonardo DiCaprio and even the Hollywood Foreign Press Association. Gervais never regrets his jokes, but there is one he regrets. Tim Allen was the butt of the joke back in 2011 when Ricky Gervais was introducing Tim Allen and Tom Hanks together to present an award.
"The first [presenter] is an actor, producer, writer and director whose movies have grossed over $3.5 billion at the box office," says Gervais. "The other is Tim Allen."
Ricky Gervais regrets a brutal joke about Tim Allen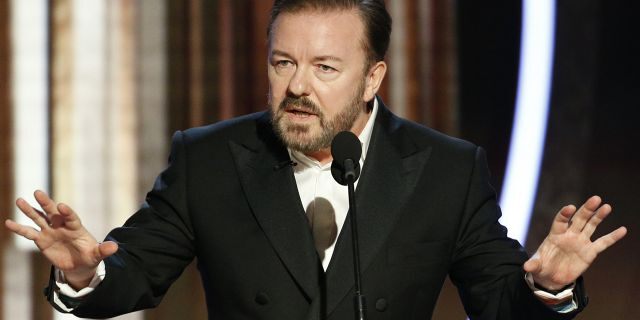 "I didn't want Tim Allen to think, 'Oh, that was written for me,' " Gervais says to THR. " 'Why me?' Well, because you were standing next to Tom Hanks." Allen didn't seem to mind the joke at all. He wasn't offended by the joke, but he tells Page Six that he was just confused by it.
RELATED: Tim Allen And His Wife Showed Some Rare PDA At The Golden Globes
"Perhaps I didn't get it… I wasn't the only one," Allen says. "Tom [Hanks] and I even said [at the time]: 'I didn't really get it. It's like he didn't finish the joke. It just went flat.' Later that night he said, 'It didn't go so well.' He kind of apologized."
Of course, this year Allen found Gervais's jokes much more enjoyable. "I thought he was pretty sharp. A couple of things made me laugh out loud," Allen recalls about the night. Many of the other Hollywood elites in the audience seemed pretty shocked and even offended by some of the jokes or statements Gervais made. Many people online are in favor of Gervais's non-politically-correct attitude during the monologue while others say he has no right.
"It was great. He said what most of the public think," one person writes on Twitter. Another person says, "To be fair celebrities have the same right to talk about politics and share their opinions about that topic like the rest of us." In case you missed it, here is Ricky Gervais' entire Golden Globes monologue below.