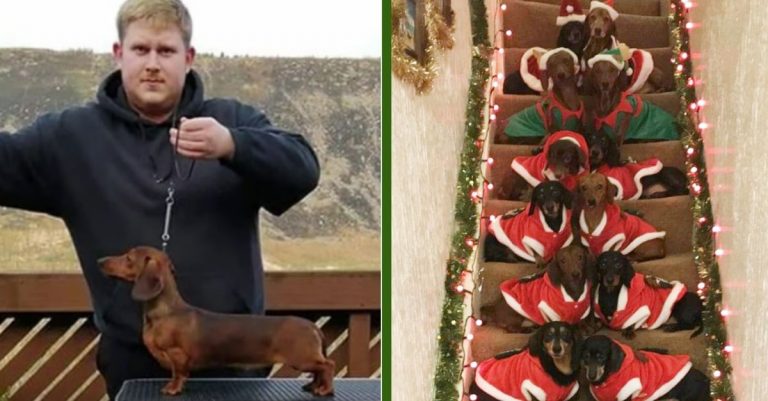 Liam Beach owns 17 Dachshunds. He manages to get all of them in adorable holiday outfits and pose for a photo. In the photo, the dogs pose on a fully decorated staircase and it's too adorable for words. Apparently, Liam is incredibly talented with wrangling animals together for posed pictures. He allegedly posed 16 of those dogs atop his staircase for a summer photo, too. Now, he has a new addition to the family just in time for Christmas.
"I have done pictures of the dogs previously, dressed up for Christmas on the sofa and thought, 'I need to top them.' So I thought I'd do it on the stairs this year," Liam tells the Daily Mail. "I thought it would be funny to see them all dressed up in their little outfits." The outfits sure are adorable!
Liam teaches 17 Dachshunds how to pose on the stairs for a Christmas picture
20-year-old Liam says that the holiday photo took him almost a full hour to complete. The dogs loved the Christmas outfits so much. They were all so excited and refused to sit still! "It took about 45 minutes to get the picture because when the dogs were dressed in their outfits they thought it was time to go walking and all went crazy running around the house," Liam explained to People. "So, I had to calm them down before putting them on the stairs."
DYR RELATED: Family Finds Most Adorable Owl Hiding In Their Christmas Tree!
I bet most dog owners can personally relate to that! Liam uses a squeaky toy and a bag of treats to keep their attention on him. "After a while on the stairs with their jumpers on they began to fall asleep so I had to work hard at keeping them awake and looking at the camera," he says.
Plans for the future with these talented pups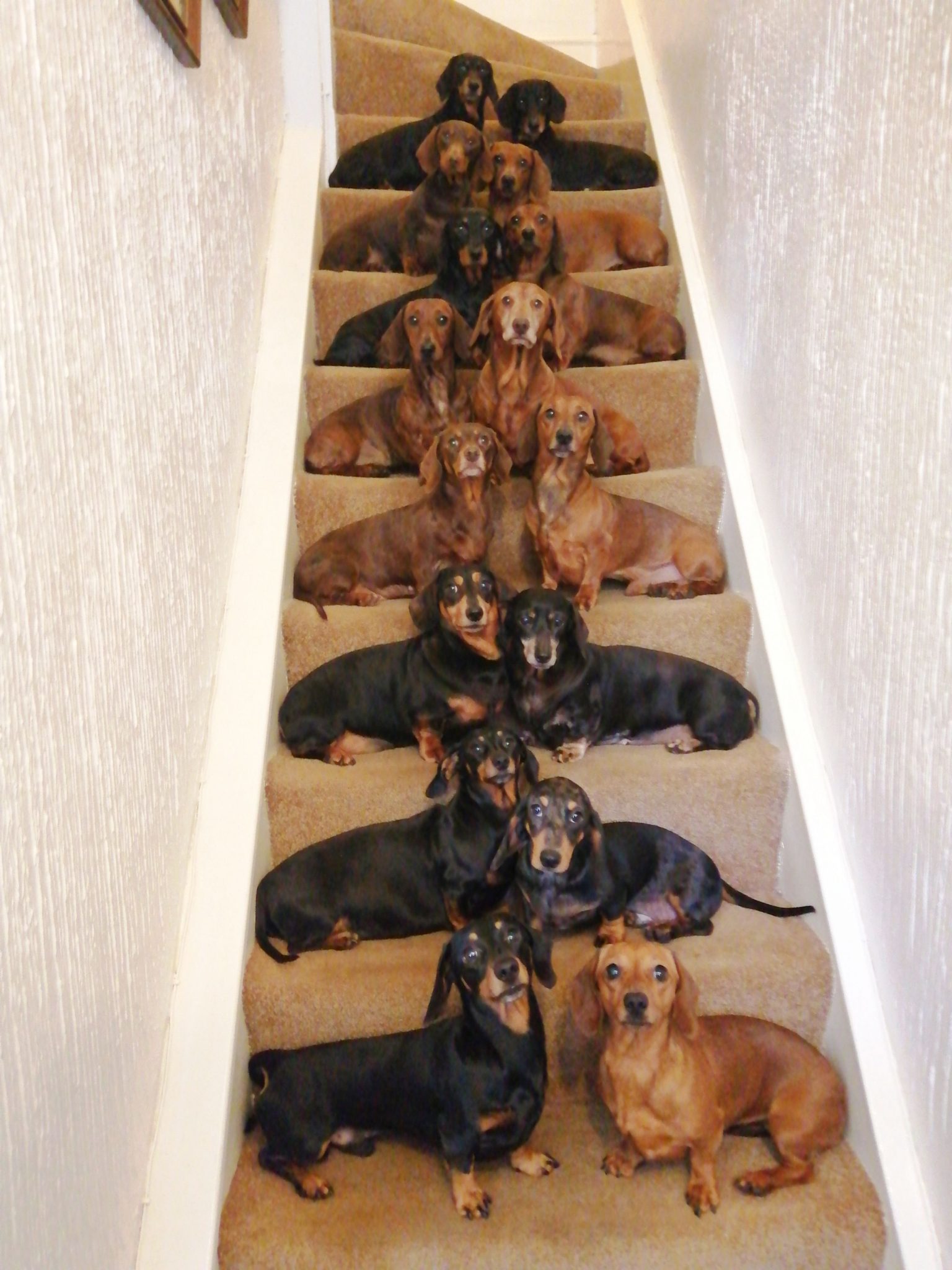 His adorable pups go by the names of Buster, Daisy, Ziggy, Wallie, Zac, Bonnie, Saffie, Duke, Diamond, Ruby, Kizzy, Sammy, Kansy, Kiki, Lottie, Benji, and Dudle. Liam does admit that the summer staircase photo was easier to handle. He tells The Mirror that he trains his dogs to pose on the staircase and is able to take the summer photo shot in just minutes. All of the dogs actually compete in dog shows and Liam says he hopes to open a dog grooming salon someday.