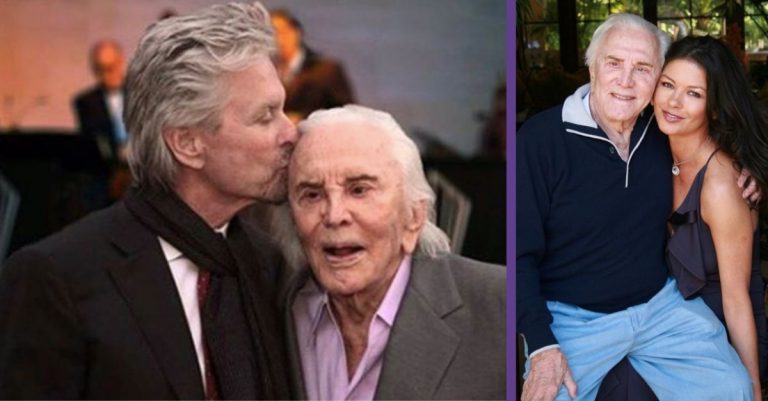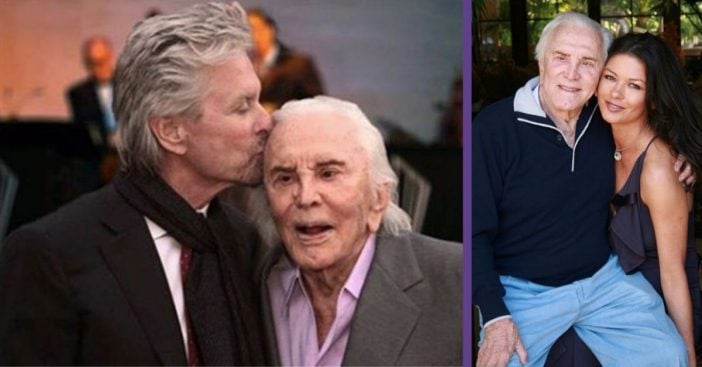 December 9th, 2019 marks Kirk Douglas' 103rd birthday and Catherine Zeta-Jones made sure to recognize the occasion accordingly. She shared an old photo of the two to her Instagram account. The photo appears to be several years old, with Kirk sitting on Zeta-Jones' knee. "This guy on my knee, is 103!!!!! Happy Birthday Pappy!!! I love you with all my heart. 😘❤️" she writes in the caption.
Kirk's son, Michael Douglas, also posted a photo for his father who is just crushing life milestones lately. He posts a photo of himself giving his father a kiss on the forehead. He writes, "Happy birthday Dad! You are a living legend and your entire family sends you all the love in their hearts! #KirkDouglas #103"
See the adorable throwback photo for Kirk Douglas
Kirk's birthday is extra special considering his son, Michael, picked up a Golden Globe nomination for his role in The Kominsky Method. Michael recently talked about his father and his old age. He admits that Kirk is tired of big parties, even though his family continues to throw him big celebrations. It's pretty fitting considering he is living past 100!
RELATED: Kirk Douglas Shares Some Advice To Michael Douglas & Catherine Zeta-Jones As They Celebrate 19th Anniversary
"Well, it's like, so 100. Okay, so he was 100. Big birthday, big birthday. The trouble is, when you're 100, you don't really want a big birthday," Michael explains. "I threw a big party for him, it was great."
The throwback photo for Kirk Douglas by son Michael
So, the big parties began when he was 100. Michael reveals that he continued the next year, 101, with another big party. "101. You know, 'OK, let's have a nice party.' 'Again? I don't…' 'Dad, it's 101 years old. You have to have a birthday.' 102…" he continues. Kirk hopes that by 103, he won't have to deal with another big celebration. "So he's begging me, he's got tears down his eyes. 'Let's just have dinner, the family together. Bring the kids,' " Michael jokes.
All of us at DYR wish this living legend a very happy 103rd birthday! God bless him.