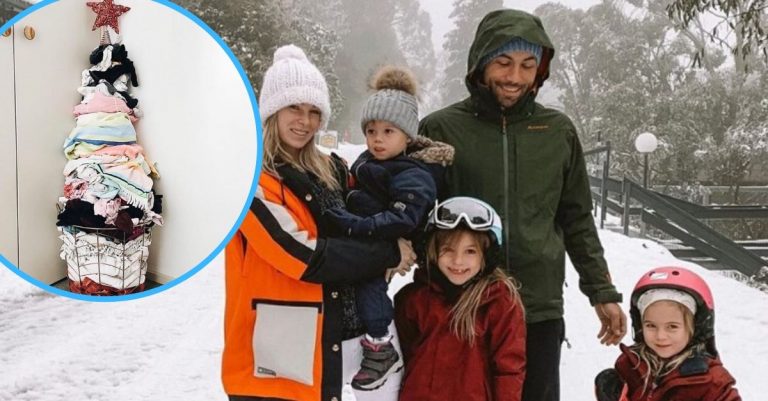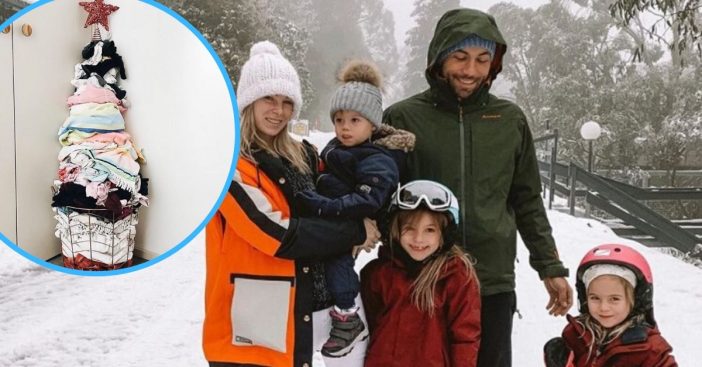 Many people love to decorate for Christmas. However, for busy moms, decorating can just add to the never-ending list of tasks and cleaning. Especially during busy times, laundry can seem to pile up and never end. Mom blogger Jessie Roberts created the ultimate relatable Christmas tree…. a laundry Christmas tree.
Jessie realized she had piles of laundry to do right before their holiday vacation. Her husband reportedly said that she "needed to get through all the washing before we head down the coast tonight." Jessie replied, "Being a smart ass, I turned it into a Christmas tree."
Photo of her laundry Christmas tree
Her husband came home and laughed about it, then offered to help her with the laundry. She declined and left the 'Christmas tree' up for about two weeks. It actually looks pretty cute, don't you think?
RELATED: The Iconic 'Christmas Tree Hair' Is Back This Holiday Season
Jessie also said, "I think it resonated with so many moms and dads because we all have that pile of clothes somewhere in our homes — dirty or clean — it's if we choose to show it or not. When house duties get to be too much, it's better to make light of it than to throw the towel in."
Jessie and her husband have three children, River, 7, Scarlett, 5, and Jagger, 3. She hoped that her viral Christmas tree was funny, but she also wants to share an important lesson. "It's a good reminder that it's OK to not be on top of your household chores," she said. "And some days, we just can't be bothered with adulting." This is a really good reminder for moms, especially, who generally take on so much.
RELATED: This Harsh Chart Comparing Working And Stay-At-Home Moms Has Garnered Thousands Of Comments