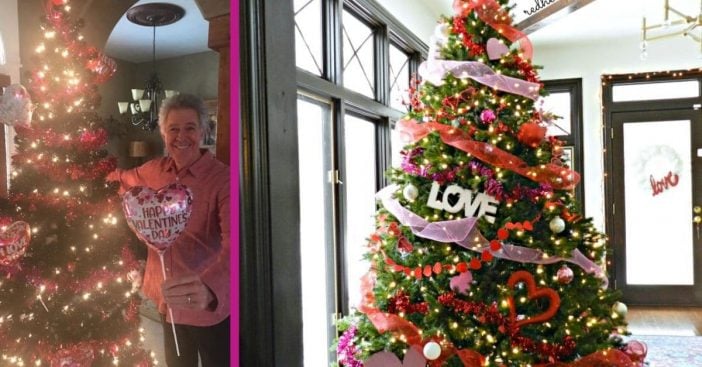 We're not sure if this is a thing that people do regularly, but Barry Williams might have just made it a thing! The actor has taken to Instagram to show off his newest creation, a Valentine's Day tree! According to his Instagram post, he recycled his old Christmas tree from the past holiday and decorated it as such for the impending holiday of love.
"My wife and I decided to keep our Christmas tree up and decorate it for other occasions. It's groovy!" he writes on Instagram. In the photo, he poses next to the tree decorated in pink/red garnish and balloons with romantic sayings on them. He holds one himself that says "Happy Valentine's Day."
This Valentine's Day tree is simply stunning!
Barry's idea to reuse his old Christmas tree for a Valentine's Day tree was met with many positive comments. "What a great idea! I love this !!! ♥️🎄 it is Groovy !!!" Someone writes. Another person says, "My cousin in law does that and decorates it the same way for all holidays."
RELATED: Family Finds Adorable Owl Hiding In Their Christmas Tree
After researching, it seems to be that these types of trees are becoming somewhat of a trend. Country Living posts back at the beginning of January this year, some of the best DIY Valentine's trees. There are also several versions on Amazon for those who don't want to do it themselves. So they seem to be an exciting and up-and-coming trend for the impending holiday. For Valentine's Day trees or other lovely decors for the holiday, check out the video below!