One Jeopardy! contestant's final answer put Alex Trebek in tears and we're all emotional while watching from home! On Monday's (11/11) episode of Jeopardy! Tournament of Champions, contestant Dhruv Gaur displayed a message of support to the game show host. During the "Final Jeopardy" segment, Gaur did not write in his question. Instead, he writes, "We ❤️ You, Alex!" This meant he was throwing away his opportunity for a win, but the statement was worth it.
Trebek reads it and pauses for a bit, getting choked up with emotion before continuing on. If you have yet to witness this moment, we encourage you to. Try not to tear up! (When he chokes up, we do, too!)
Alex Trebek chokes up seeing a supportive and loving message from 'Jeopardy!' contestant
Alex Trebek getting choked up during Final Jeopardy today messed me all the way up. #Jeopardy #WeLoveYouAlex pic.twitter.com/QJVP4hJpGV

— sabreena (@aneerbas) November 12, 2019
After the episode went live and people were able to witness the heartwarming gesture, it would prompt the hashtag #WeLoveYouAlex to start trending on Twitter. Many people would use the hashtag to begin sharing their own experiences and appreciation for the game show host. Gaur would take to social media after the episode airs to share his motivation behind this gesture.
RELATED: Teen 'Jeopardy!' Champion Donates $10,000 To Cancer Research In Honor Of Alex Trebek
"Sorry for west coast spoilers, but I'm really glad I got the opportunity to say to Alex what everybody at the tournament was thinking," he explains. "For context, Alex had just shared with us that he was reentering treatment for pancreatic cancer. We were all hurting for him so badly."
How Alex Trebek is doing now
Gaur continues, "When Final Jeopardy came up, I could've tried to puzzle it together, but really, just kept thinking about Alex, and thought he should know. I'm just very grateful I got the opportunity to say what I know everyone was thinking. Sending all the love. #weloveyoualex."
Trebek has been dealing with stage four pancreatic cancer since he first announced his diagnosis earlier this year. He did say in one report that he would be ending his chemotherapy because his tumors had shrunk. However, those reports would change and Trebek would call them "over-optimistic." His tumors would return much more aggressive than they were at first.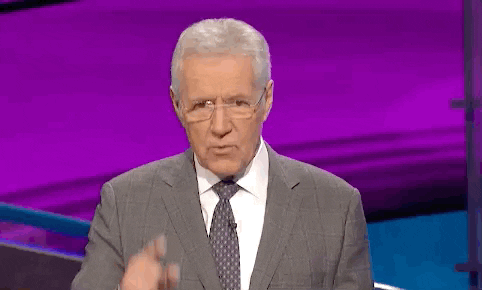 "As long as I can walk out, and walking out is more of an effort now than it used to be, as long as I can walk out, and greet the audience and the contestants, and run the game, I'm happy," Trebek says about his health journey.  We're all praying for Alex Trebek during this time!
RELATED: Dr. Oz Gives Big Update On "Golden-Hearted Friend" Alex Trebek's Cancer Battle