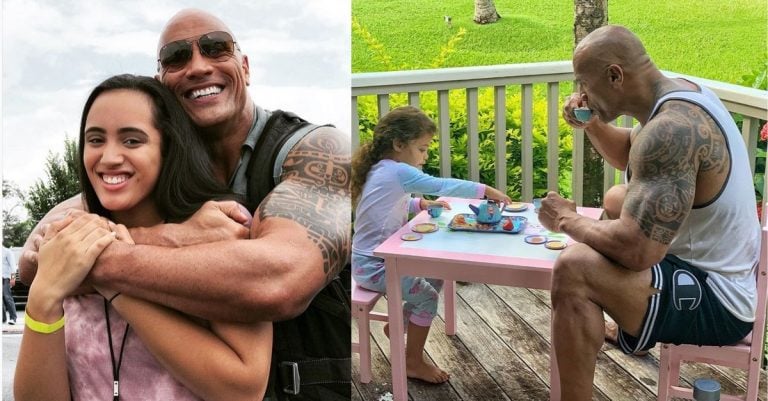 Known as an action movie icon with enough strength to lift a table, Dwayne "The Rock" Johnson instead settled down at a table a bit too short for him. But the reason has fans overwhelmed by the cuteness of the event. Earlier this week, Johnson shared a picture of himself enjoying a tea party with his 3-year-old daughter, Jasmine.
Seated in a small, pink chair, Dwayne Johnson has his muscles and tattoos on full display. But, the real focus is how seriously he is taking this bonding moment with Jasmine. We can see in his Instagram picture enjoying a sip of tea from a delicate pink cup while Jasmine manages the table.
Dwayne Johnson enjoys a tea party with his daughter, Jasmine
View this post on Instagram
Comments on the Instagram post all laud the moment as tender, charming, and a reminder why so many people love Dwayne Johnson. Some point out the adorable and extreme size difference between father and daughter. As one commenter pointed out, Johnson's bicep alone is as big as Jasmine. The photo has also already received over 7 million likes.
Johnson and his wife Lauren Hashian are the parents of Jasmine and Tiana. Johnson also has a daughter with Dany Garcia. Simone, 18, is also present in numerous heartwarming pictures with Johnson. All of them show The Rock makes a habit out of bonding with his family. One such instance shows Johnson thanking Simone for a meaningful Father's Day gift.
Family is huge for Johnson
View this post on Instagram
Born May 2, 1972, the 47-year-old retired from the WWE in August 2019. His roots may reach back into wrestling, but even that is tied to his family. He is also not without a sense of humor. While Jasmine enjoyed her tea at this week's tea party, Johnson jokingly hinted at adding tequila to his, "cos it's always 5 o'clock somewhere." Even with a little something extra, Johnson made time to thank his small chair for staying strong while all his muscles bore down on it.
More importantly, Johnson end-capped the bonding experience by voicing his appreciation for all opportunities like this, writing, "#icherishthesemoments." While pursuing a full and busy career brings its own rewards, it is always wonderful to see renowned icons such as Johnson fully appreciate and cherish time with family and those who love them the most.