Dwayne 'The Rock' Johnson recently gave an amazing speech at the 2019 MTV Movie & TV Awards. He accepted the Generation Award while giving his speech about how he refused to conform to Hollywood and their standards about how someone should look like. This has long been a widely known part of Hollywood that drives some people away from the "glamorous" lifestyle.
Johnson gives us a look into when he first gets to Hollywood and how he was urged to change. It's interesting; prior to taking the stage for his speech, host Zachary Levi introduced him and all of his lifetime achievements. Definitely, a great thing he chose not to follow Hollywood's standards!
Take a look at the key parts of Johnson's incredible "not conforming" speech
After showing a montage of Johnson's best film and TV moments, he took to the stage while Queen's "We Will Rock You" plays. How fitting! He danced his way to the stage before accepting the award and beginning his incredible speech.
"Thank you. Thank you so much. Well first of all, I want to thank the dancers and the choreographers Dave Scott and John Silver. Give it up for them — my boys! Thank you to MTV for this awesome — their really incredible, prestigious award," Johnson begins.
He continues, "I also want to thank my family at home. My girls — I got a houseful of strong ass women. But mainly, I want to thank the ones who make this whole thing happen. I want to thank you — the people, the fans. I thank you. All of you at home, you are the reason I'm getting this, so I wanna share a really quick lesson with you guys that I've learned over the years."
Scroll through the photos above by using the right arrow on the Instagram photo! 
They actually wanted him to change his name
"The most powerful thing that we can be is ourselves. I love what Zachary was saying because that's us. We were always that little kid. We're still that little kid. Right — just aspiring to be something better. Aspiring to be important," he continues on.
"When I first got to Hollywood — Hollywood, they didn't know what the hell to do with me. I mean, I was this half-black, half-Samoan and six foot four, 275-pound pro wrestler. You know; I was told at that time, 'Well, you got to be a certain way. You got to drop some weight. You've got to be somebody different. You got to stop working out. Stop doing the things that I love. You got to stop calling yourself The Rock.' What?!"
"And for years I actually bought into it because you think, 'Oh, that's what I'm supposed to do.' And I was miserable doing that. So I made a choice. And the choice was I wasn't going to conform to Hollywood, Hollywood was going to conform to me. So, Hollywood conformed to me and here I am with all of you getting the Generation Award. Holy s—," Johnson says.
"I'm a walking example of that, but here's the thing that I want to share with you guys – that's not enough. Because there's another side to being your authentic self, your true self – and that's the side that the magic is on. That's the side that's gold. While yes, it's important to be yourself – you've got to recognize the joy and the responsibility of bringing everybody with you. And you do that by being kind, by being compassionate, by being inclusive and straight up just being good to people because that matters."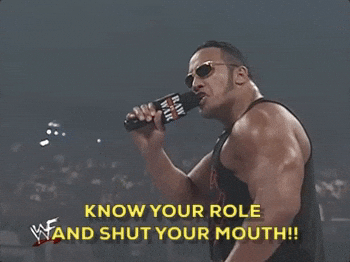 You can watch the full speech below! It is absolutely incredible to watch The Rock talk about not conforming to Hollywood.
Dwayne 'The Rock' Johnson is truly a treasure in the Hollywood world. They're lucky to have him there!