Actor Michael Douglas recently reflected on his life, career, and marriage, wishing he had kept a diary and written down more about his life. He remembers the last 50 years of his life fondly. Douglas remembers his television debut on The Experiment in 1969 as well as his many award nominations and wins.
In the same token, he also reflects on his marriage to actress Catherine Zeta-Jones. He says he wants to be remembered as a good husband.
Michael Douglas wishes he had kept a diary of his life
"If you're not careful, you don't really cherish that moment or that time and next thing you wake up and its 50 years later and you go, 'Whoah what happened?'" Douglas says in a conversation with Juju Chang at the Paley Center.
"I wish I'd kept a diary a little more as a sense of a reminder. But I think you just rush along and when you reach an age where your life slows down it's too late."
The actor recalls when he first met Catherine Zeta-Jones
While at the Paley Center, he was honored at the talk/luncheon alongside his wife of 20 years. He recalls the night he met Zeta-Jones at the Deauville Film Festival. Douglas had been at the festival promoting A Perfect Murder, while his future wife was there promoting Zorro.
"I looked at her, and I said, 'Catherine, I'm going to be the father of your children,'" Douglas says. This prompts the whole audience to 'aww.' "The first time I met her! You think that went over big?"
He talks about his background with producing and directing
Douglas additionally speaks about the importance of his background with producing and directing. He would leave his first job on The Streets of San Francisco to produce One Flew Over the Cuckoo's Nest. That would scoop up an Oscar win for best picture.
"It's all about material — if it's comedy [or] tragedy. I don't look at the part; I really look at what's going to be a good project, movie, television show," Douglas tells the Hollywood Reporter. "I've got a producing background so I'm used to looking at the whole project."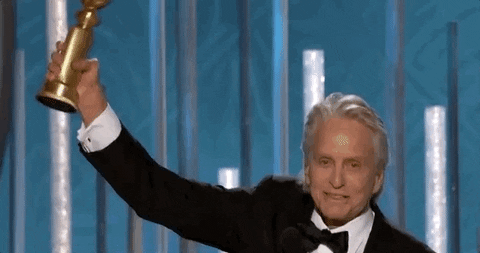 There is no doubt that Michael Douglas has had an outstanding career! He must get it from his father, 102-year-old actor Kirk Douglas. All the best for the whole Douglas family in their success. It's no wonder he would want to keep a diary!