Brady Bunch stars, Christopher Knight, Maureen McCormick, and Susan Olsen, recently took to the show Chopped to star as judges on the show. In all 3 rounds on the show, the baskets that contestants receive before cooking up their meals contained ingredients that gave nods to the '70s sitcom.h
The baskets included ingredients for pork chops and applesauce, a classic nod to the show. Host Ted Allen and Christopher Knight recall the episode where Knight's character repeats "pork chops and applesauce" over and over while impersonating Humphrey Bogart.
Takeaways from the 'Chopped' episode
In a clip from the episode, Knight, McCormick, and Olsen share their memories about the Brady kitchen. McCormick describes the Brady kitchen as "always kind of the hub of everything happening on our show." Host Ted Allen quips that a lot of things seemed to go wrong in that kitchen, to which Olsen jokes, "Poor Alice, whose entire days depended on how the pot roast turns out."
The episode is appropriately titled "A Very Brady Chopped," but it's not the only Brady-themed episode on the show. The episode "Brady Bunch Bash" will feature Barry Williams, Eve Plumb, and Mike Lookinland on September 3rd this year. They will also be sharing stories and memories as Brady siblings!
Don't miss out on the next 'Brady Bunch' episode!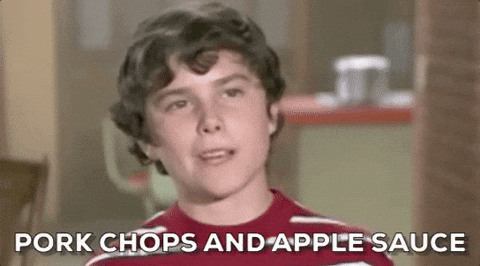 Watch the exclusive clip of the episode below. Additionally, mark your calendars for the 2nd Brady episode on September 3rd, at 9 p.m. ET on Food Network!
Do you remember this classic Brady Bunch episode?