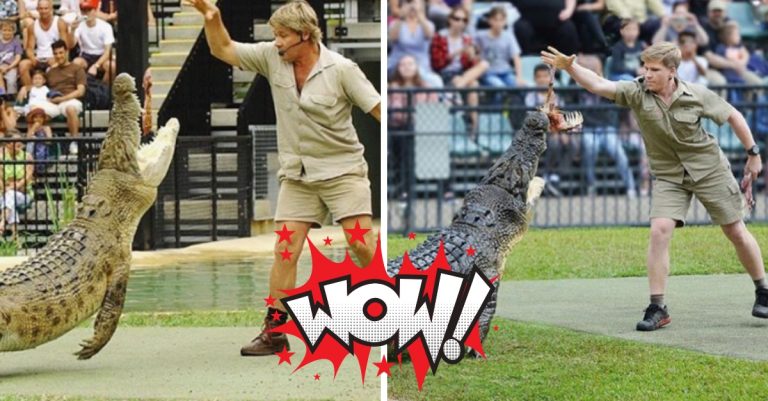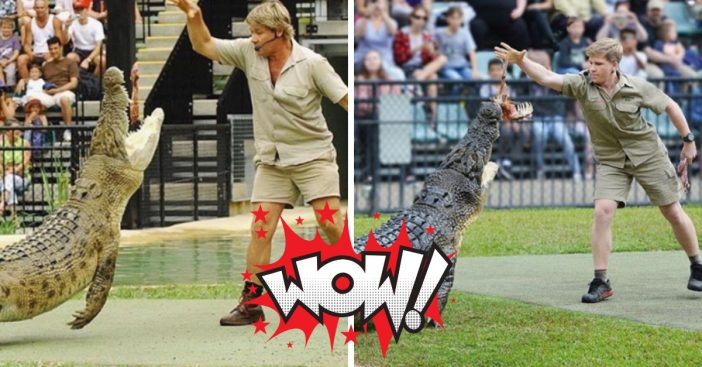 Robert Irwin recently shared an incredible throwback photo. He shared a photo of himself feeding a crocodile. Next to that photo, is a photo of his late father, Steve Irwin, feeding the exact same crocodile in the same location 15 years prior. Steve, dubbed the "Crocodile Hunter" passed away in 2006, but his children are definitely carrying on his legacy in a major way.
Steve's wife Terri, his daughter Bindi, and his son Robert all continue to work at the Australia Zoo. Robert now does public demonstrations at the zoo, including feeding the crocs, just like his famous father used to do. With the photo, he shared the caption, "Dad and me feeding Murray… same place, same croc – two photos 15 years apart."
See the incredible photo of Steve and Robert with the same crocodile
https://www.instagram.com/p/Bzc-Wxihkc3/?utm_source=ig_embed
Fans of the Irwins loved the photos side by side. One person commented, "This is truly everything! Your dad must be overjoyed to see you literally walk in his footsteps!"
His family was touched as well. His sister Bindi re-shared the photo and wrote, "I'm so incredibly proud of you Robert. You inspire us all. Dad is always with us," with a heart emoji.
https://www.instagram.com/p/ByxsuR-BMio/?utm_source=ig_embed
According to People, Bindi has said, "We really do try every day to make him proud and follow in his footsteps. I hope that somewhere he's out there going, 'Yes! You did good!' Every day we work with the beautiful animals at Australia Zoo and do the best we possibly can to ensure dad's dreams and goals continue." That is so sweet!
https://www.instagram.com/p/ByBz_OlhqJt/?utm_source=ig_embed
While Robert was only two years old when his father passed, he seems to be the spitting image of Steve now. Not only do the two look so much alike, but Robert also followed in his father's footsteps to maintain a career with animals. He also enjoys wildlife photography.
https://www.instagram.com/p/BzmdsgTBACY/
Robert admits he loves hearing people compare him to his dad. He said it is the biggest compliment he could ever get. The entire family really does love to continue to do the work that Steve started. Right now they have their own show on Animal Planet called Crikey! It's the Irwins. This year, it was announced that the show got renewed for a second season which proves fans still love the Irwins.
Check out a full episode of Crikey! It's the Irwins below:  
https://youtu.be/qrBM-Wxlj8M
Robert Irwin truly is a mini-me of his father.