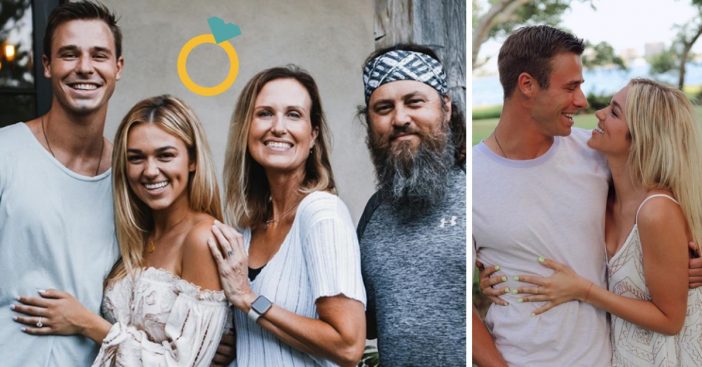 Do you remember Sadie Robertson from Duck Dynasty? Sadie is the daughter of Willie and Korie Robertson and the granddaughter of Phil Roberston. The family was seen on Duck Dynasty after finding huge success with their company Duck Commander, which makes duck whistles.
Sadie has been in the public eye since she was young. For example, Duck Dynasty came on television in 2012 when she was only around 14 years old. She is now 21 years old, a singer, actress, and was the first runner up on the popular show Dancing with the Stars. Recently, she announced that she is now engaged to Christian Huff! Very exciting news!
Watch the adorable video footage of the engagement
View this post on Instagram
On June 9, 2019, Sadie posted a video of the adorable proposal.
She captioned the video, "I screamed YES. so many words and so many more pictures to come, but for now just know my friends I'm the happiest human in the world on June 9th, 2019 today and for the rest of my life. I GET TO MARRY THIS MAN. God is faithful and so so good."
View this post on Instagram
Christian set up a chair, pillows, and candles under a tree for a gorgeous setting for a proposal. Then, he carried her over to the spot and asked Sadie if she would spend forever with him. She obviously screamed a resounding 'yes' to his proposal!
Sadie's mother Korie shared her congratulations on social media and said she was "elated about the proposal and that she can't wait for her future son-in-law to officially join the family."
View this post on Instagram
Scroll through using the arrows in the photo to see more, including one of Willie, Korie, Sadie, and Christian! We miss seeing this crew on television!
In addition, Korie posted a photo of the family that said, "Sadie's getting married!!!!! To the most amazing man, and we are beaming!!! Today was an absolute dream. I love every second of being @legitsadierob mom and can't wait for @christian_huff to join the fam!"
View this post on Instagram
Sadie and Christian have been dating for about 10 months. Christian decided to pop the question on his birthday. Christian has not yet posted a photo of the engagement on social media, probably because they are too busy celebrating!
View this post on Instagram
What do you think about Sadie and Christian's engagement? What do you think their wedding will be like? We can't wait to see more photos of the happy couple!