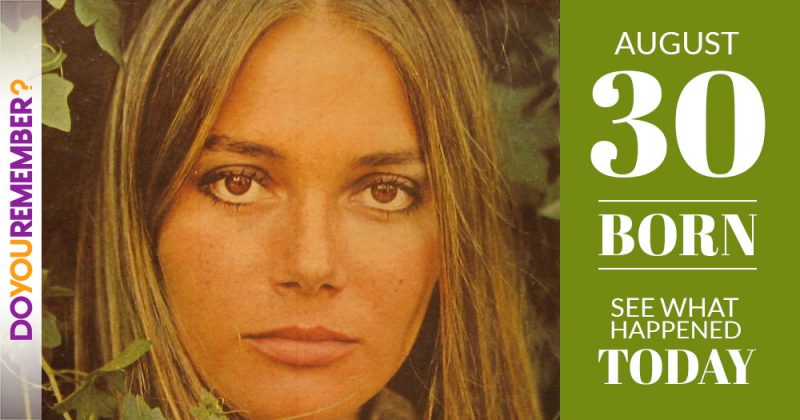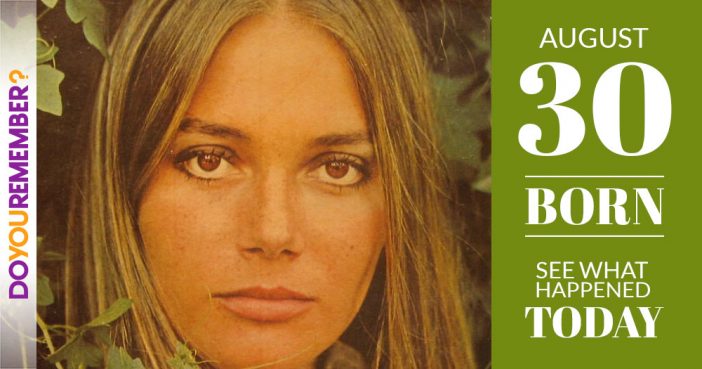 "Born Today"
Trevor Jackson (19)

Andy Roddick (33)

Gabriel Aubry (40)

Lisa Ling (42)

Cameron Diaz (43)

Frederique Van Der Wal (48)

Michael Michele (49)

Michael Chiklis (52)

Paul Oakenfold (52)

David Paymer (61)

Timothy Bottoms (64)

Lewis Black (67)

Peggy Lipton (69)

Elizabeth Ashley (76)

Warren Buffett (85)

Ted Williams (RIP)

Mary Shelley (RIP)
"Died Today"
Wes Craven (Born: August 2, 1939 / Died: August 30, 2015)

Oliver Sacks (Born: July 9, 1933 / Died: August 30, 2015)

Glenn Ford (Born: May 1, 1916 / August 30, 2006)

Charles Bronson (Born: November 3, 1921 / August 30, 2003)
"Movies"
"Music"
1949 – Hank Williams recorded "I'm So Lonesome I Could Cry." The song about loneliness was inspired by his troubled relationship with wife, Audrey Sheppard.

1950 – Hank Snow was at #1 on the Country music singles charts with "I'm Moving On"
1959 – Carole King married songwriting partner Gerry Goffin.

1961 – The Paris Sisters released the single "I Love How You Love Me"

1962 – The Beatles played at the Cavern Club in Liverpool, England in the afternoon and then joined Gerry and the Pacemakers at the Riverpark Ballroom in Chester.

1965 – Bob Dylan released the acclaimed album

Highway 61 Revisited

on Columbia Records.

1969 – Chicago (then called Chicago Transit Authority), Canned Heat, Janis Joplin, and Sam & Dave played on the opening day of the three-day Texas International Pop Festival at the Dallas International Speedway in Lewisville, Texas. Grand Funk Railroad and B.B. King played all three days of the Festival.

1969 – A crowd of over 150,000 enjoyed the Isle of Wight Festival. The Moody Blues, the Who, Bob Dylan, the Band, Joe Cocker, Richie Havens, the Nice, Blodwyn Pig, Aynsley Dunbar, Pretty Things and Gypsy were among the performers.

1969 – Zager & Evans reached #1 in the U.K. with "In The Year 2525"
1969 – The Rolling Stones enjoyed a second week at #1 with "Honky Tonk Women"
Johnny Cash was still at 2 with "A Boy Named Sue" while the Archies moved from 14-3 with "Sugar, Sugar"
1970 – Jimi Hendrix appeared on the final night at the Isle of Wight Pop Festival in England. Four-day attendance was estimated at between 600,000 and 700,000, and is cited as the largest crowd ever to attend a rock festival.

1971 – Lynn Anderson was at #1 on the country music album chart with

You're My Man, 

Anderson's fourth studio album. The record was a #1 hit on the

Billboard

Top Country Albums chart for seven weeks.

1972 – John Lennon and Yoko Ono performed in their "One To One" concert at Madison Square Garden in New York City. Stevie Wonder, Roberta Flack and Sha Na Na joined them. Lennon purchased $60,000 worth of tickets to the charity event to give to fund-raisers.
1973 – The Doors officially broke up.

1975 – Natalie Cole debuted with her first hit "This Will Be"
1975 – Rod Stewart earned his fifth #1 album in the U.K. with

Atlantic Crossing

.

1975 – Hamilton, Joe Frank & Reynolds registered a #1 hit on the Easy Listening chart with "Fallin' in Love"
1975 – John Denver moved from 49 to 20 with "I'm Sorry"
1975 – K.C. and the Sunshine Band reached #1 with their first release "Get Down Tonight". Hamilton, Joe Frank & Reynolds fell dropped with "Fallin' In Love" while "Rhinestone Cowboy" by Glen Campbell was #3.  
1975 – Elton John's

Captain Fantastic and the Brown Dirt Cowboy

, the first album to debut at #1, returned to that position after falling the week before.  

1980 – Cher made a surprise appearance with her band Black Rose at a concert in New York City's Central Park.

1980 – Christopher Cross rode the wind to #1 with "Sailing."  Diana Ross was up to #2 with "Upside Down" while the previous #1 from Olivia Newton-John "Magic" was third. 
1983 – Huey Lewis and the News released the single "Heart And Soul"
1984 – A London auction of Beatles memorabilia at Sotheby's netted over $271 thousand.

1986 – "Higher Love" from Steve Winwood hit #1
https://youtu.be/E0BZWApjtTU
1988 – Brenda Lee sued MCA Records for $20 million in unpaid royalties.  It was becoming all too common, as artists discovered, often years later, that their record companies had not been honest with them in reporting record sales.   

1988 – Papa Dee Allen of War died at the age of 57 after suffering a massive heart attack on stage in Solano County, California.

1989 – Billy Joel fired his manager Frank Weber, who was his former brother-in-law also.  An audit revealed serious discrepancies in Weber's work concerning in particular his bookkeeping, and Joel sued him later that year for $90 million.

1991 – Jan Berry of Jan & Dean married Gertie Filip onstage during a concert at the Stardust Convention Center in Las Vegas, Nevada.

1992 – Nirvana headlined the final day of the annual Reading Rock Festival in Reading, England.

1994 – Boyz II Men released the album

II

on Motown Records.

1994 – Usher released his self-titled debut album on LaFace Records.

1995 – James Taylor and Carly Simon (who divorced in 1983) reunited for their first concert together in 16 years at the scenic Martha's Vineyard in Massachusetts.

1999 – R.E.M. was in concert at the Chastain Park Amphitheatre in Atlanta, Georgia.

1999 – The Red Hot Chili Peppers headlined the final day of the Reading Festival in Reading, England.
"TV/Radio"
1969 – Roger Miller was the special guest on this week's

Johnny Cash

ABC television music variety show. Roger performed "Me And Bobby Magee" and a short comedy version of "I Walk The Line"

1993 – Billy Joel was the first musical guest on the premiere of

The Late Show with David Letterman

on CBS-TV.
"Other Important Events…"
1979 – 1st recorded occurrence of a comet hitting the sun (energy=1 million hydrogen bombs)

1968

– 1st record under Apple label (Beatle's Hey Jude)