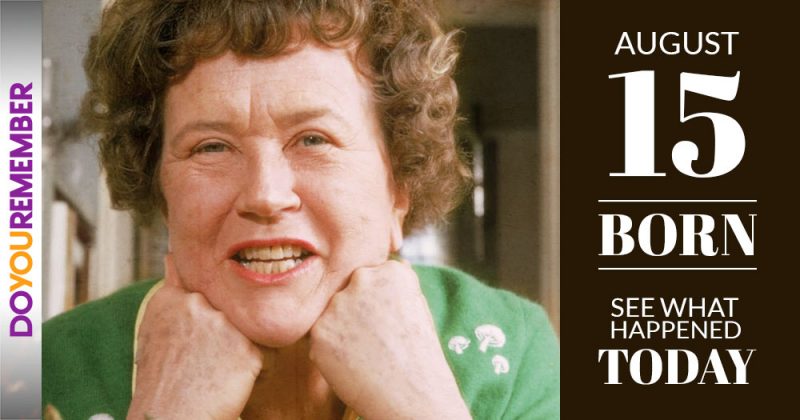 Born today-Julia Carolyn Child (August 15, 1912 – August 13, 2004) was an American chef, author, and television personality.
"Born Today"
Chief Keef (20)

Jennifer Lawrence (25)

Belinda (26)

Joe Jonas (26)

Carlos Pena Jr. (26)

Natalia Kills (29)

Quinton Aaron (31)

Kerri Walsh Jennings (37)

Brad Goreski (38)

Natasha Henstridge (41)

Ben Affleck (43)

Anthony ANderson (45)

Cris Judd (46)

Debra Messing (47)

Alejandro Gonzalez Inarritu (52)

Lady Miss Kier (52)

Tom Colicchio (53)

Rondell Sheridan (57)

Princess Anne (65)

Tess Harper (65)

Linda Ellerbee (71)

Jim Dale (80)

Mike Connors (90)

Rose Marie (92)

Napolean (RIP)

Julia Child (RIP)
"Died Today"
Will Rogers (Born: November 4, 1879 / Death: August 15, 1935)

Rene Magritte (Born: November 21, 1898 / Death: August 15, 1967)
"Movies"
"Music"
1958 – Buddy Holly and Maria Elena Santiago were married at Buddy's parents' home in Lubbock, Texas.

1960 – "It's Now Or Never" became Elvis Presley's 14th #1 song in four years.
1964 – The Dave Clark Five signed a movie deal with MGM Studios.

1964 – Dean Martin took over at #1 with "Everybody Loves Somebody", moving the Beatles' "A Hard Day's Night" down to #3.
1965 – The Beatles set an attendance record for the largest audience ever for a concert, as they played before 56,000 at Shea Stadium in New York City.  Mick Jagger and Keith Richard of the Rolling Stones were in the audience.  Brenda Holloway, the King Curtis Band, the Young Rascals and Sounds Incorporated opened for them.  

1970 – The Carpenters made it six weeks in a row at #1 on the Adult Contemporary chart with "Close To You"
1981 – Stevie Wonder, Grover Washington, Jr. and Evelyn "Champagne" King performed at the Black Family Fair at the Rose Bowl in Pasadena, California.

1981 – Kenny Rogers' "I Don't Need You" hit #1 on the Adult Contemporary chart
1981 –

Precious Time

landed at #1 on the Album chart for Pat Benatar.

4

by Foreigner moved to #2 followed by the previous

Long Distance Voyager

by the Moody Blues.  

1981 – Diana Ross & Lionel Richie moved to #1 with "Endless Love"
1987 – Keith Richards began recording his first solo album

Talk Is Cheap

at Le Studio in Montreal, Quebec, Canada.

1987 – Kenny G performed at the Newport Jazz Festival in Newport, Rhode Island.

1987 – Madonna began a tour of the U.K. at Roundhay Park in Leeds, West Yorkshire, England.

1987 – Michael Jackson hit #1 in the U.K. with "I Just Can't Stop Loving You"
1987 – Steve Winwood hit #1 for a third week on the Adult Contemporary chart with "Back In The High Life Again"
1988 – Steve Winwood released the single "Don't You Know What The Night Can Do"

1991 – Paul Simon gave a free concert at New York City's Central Park.

1992: – INXS hit #1 in the U.K. with the album

Welcome To Whoever You Are

.

1992 – Boyz II Men reached #1 with "End Of The Road"
1995 – The album

Live at Red Rocks 8.15.95

was recorded as the Dave Matthews Band performed in Morrison, Colorado.

1998 – Boyzone hit #1 in the U.K. with "No Matter What"

1999 – Westlife had the #1 U.K. song with "If I Let You Go"
"TV/Radio"
1991 – Debbie Gibson sang "Lost In Your Eyes" for the International Special Olympics All-Star Gala on ABC-TV.
"Other Important Events…"
1971 – Thomas Wayne ("Tragedy" in 1959) was killed in a car crash at the age of 31.

1980 – The George Harrison book,

I Me Mine,

went on sale at bookstores.  The book is a collection of lyrics and also includes Harrison's religious views.

1983 – Johnny Ramone, guitarist for the Ramones, had brain surgery after being beaten up in a fight.