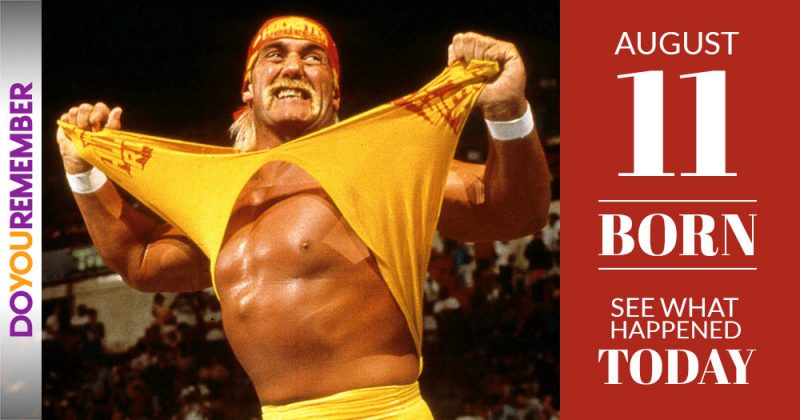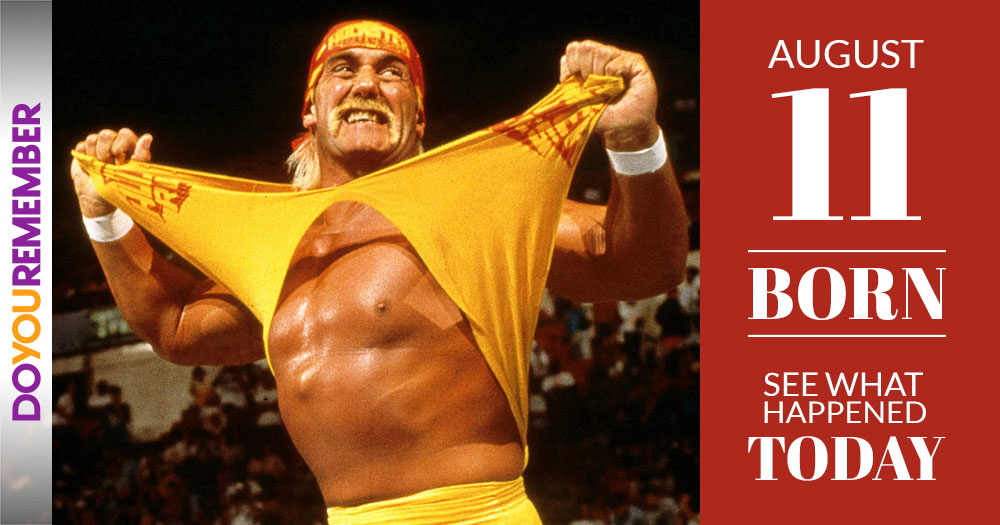 Born on August 11, 1953, in Augusta Georgia, Hulk Hogan was discovered in 1979 by the World Federation.

"Born Today"
Alyson Stoner (22)

Asher Roth (30)

Chris Hemsworth (32)

Will Friedle (39)

Ben Gibbard (39)

Carolyn Murphy (41)

Ashley Jensen (46)

Anna Gunn (47)

Joe Rogan (48)

Viola Davis (50)

Embeth Davidtz (50)

Duane Martin (50)

Miguel A Nunez Jr. (51)

David Henry Hwang (58)

Joe Jackson (61)

Hulk Hogan (62)

Steve Wozniak (65)

Eric Carmen (66)

Ian McDiarmid (61)

John Gorrie (83)

Arlene Dahl (90)

Alex Haley (RIP)
"Died Today"
Jackson Pollock (Born: January 28, 1912 / Died: August 11, 1956)

Chuck McKinley (Born: January 5, 1941 / Died: August 11, 1986)

Peter Cushing (Born: May 26, 1913 / Died: August 11, 1994)
"Movies"
"Music"
1958 – "Patricia" by Perez Prado was #1 on the R&B chart.

1958 – In

Billboard's

second chart, Ricky Nelson remained at #1 with "Poor Little Fool"
1962 – Green Onions" became the first hit for Booker T. & the MG's
1962 – The Supremes debuted on the singles chart with "Your Heart Belongs To Me".

1962 – Neil Sedaka hit #1 with "Breaking Up Is Hard To Do"
1963 – The Rolling Stones and Long John Baldry performed at the National Jazz and Blues Festival, on the Richmond Athletic Grounds in Richmond, Surrey, England. The Stones were paid all of £30.
1967 – Small Faces, the Move, Tomorrow, and Marmalade performed on the opening night of the seventh annual Jazz & Blues Festival at the Windsor Royal Racecourse in Windsor, England.  

1968 – The Beatles announced the formation of Apple Records.

1969 – Blind Faith released their first and only album.

1969 – Diana Ross invited 350 friends to a club in Beverly Hills, California to see a new act called the Jackson 5.

1972 – Elvis and Priscilla Presley filed for divorce. They had married in May of 1967.

1973 – The Edgar Winter Group's "Free Ride" was released.

1982 – The self-titled album "Vanity 6" was released.

1985 – Lead Singer of Duran Duran, Simon LeBon, boat capsized off the English coast during a race. The Royal Navy rescued him after he spent 40 minutes trapped in an underwater air pocket.

1973 – Bill Aucoin offered to become the manager of KISS after seeing them play at the Crystal Ballroom of Hotel Diplomat in New York City the night before.

1973 – Maureen McGovern hit #1 with "The Morning After." Wings were #2 with "Live And Let Die"

1976 – Keith Moon, drummer of the Who, collapsed and was hospitalized in Miami, Florida.

1979 – Led Zeppelin played their final concert in the U.K. at the Knebworth Festival at Knebworth Park, in Knebworth, England.

1979 – Chic held #1 spot for the third week with "Good Times".
1980 – Queen released the single "Another One Bites The Dust".
1984 – Lionel Richie had his second #1 on the AC chart with his album

Can't Slow Down

as "Stuck On You" was #1 for a second week.

1984 – Ray Parker, Jr. had his biggest career hit as "Ghostbusters" reached #1. This ended Prince's hold on the top spot with his great song "When Doves Cry"
1984:

 Purple Rain

was in its fifth week of release with two at #1 on the Album chart.

1989 – Three members of L.L. Cool J crew were arrested and charged with raping a 15 year-old girl. The incident took place after a concert when the girl had won a backstage pass on a radio contest.

1990:  Mariah Carey reached #1 on the R&B chart with her first single "Vision Of Love"
1992:  Ray Charles sang "America The Beautiful" at the opening of the Mall of America in Minneapolis, Minnesota.
1999 – KISS received a star on the Hollywood Walk of Fame.

1960 – Johnny Cash appeared at the Three Rivers Inn in Syracuse, New York during a four night run.

1989 – 'Why'd You Come in Here Lookin' Like That' by Dolly Parton was at #1 on the country chart. Released as the first single from the album

White Limozeen,

the song was Parton's eighteenth #1.
"TV/Radio"
1957 – Jerry Lee Lewis performed on

The Steve Allen Show

on NBC-TV.  

1963 – The Kingston Trio were the mystery guests on the television show

What's My Line?

1965 –

Sonny Bono performed "Laugh At Me" on the television show

Shindig

on ABC.  The Rolling Stones, Donovan, the Ronettes and Bobby Goldsboro also performed.
"Other Important Events…"
1972 – The mayor of San Antonio, Texas declared it Cheech & Chong Day.

1991 – The space shuttle

Atlantis 

ended its nine-day journey by landing safely.
1992 – In Bloomington, MN, the Mall of America opened. It was the largest shopping mall in the United States.