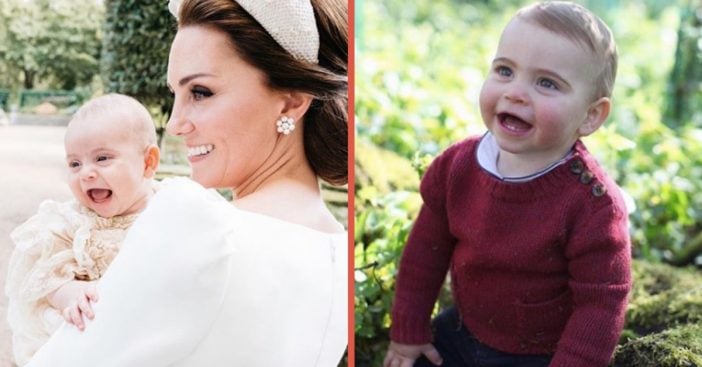 Prince Louis just had his first birthday and the Royal Family is celebrating! Born on April 23rd, 2018, Prince Louis is now one year old and the Royal Family has released some new photos of the little prince that will have everyone saying "aww"! Prince William and Kate Middleton announced on September 4th, 2017, that they were expecting their third child.
Of course, once Prince Louis was born, Kensington Palace announced the birth and Prince George and Princess Charlotte were able to go meet their new baby brother for the first time. Then, just seven hours later, Kate Middleton left the hospital with the new baby prince!
https://www.instagram.com/p/BlSWcJunlMb/
Let's not forget these adorable photos taken last year at Prince Louis' christening! Since Prince Louis was born, the public has been completely enamored with the little guy and have been dying to see more of him. He is currently the youngest member of the Royal Family, but that will soon change once Prince Harry and Meghan Markle's baby is born!
https://www.instagram.com/p/BlBQmkOHqOE/
We remember when Prince Louis was born! Do you? Kensington Palace announced the prince's birth with a bulletin for Instagram on April 23rd, 2018, saying:
"The bulletin has been placed outside Buckingham Palace formally announcing the birth of The Duke and Duchess of Cambridge's new son. The Duchess of Cambridge was safely delivered of a son at 1101hrs. The baby weighs 8lbs 7oz. The Duke of Cambridge was present for the birth. Her Royal Highness and her child are both doing well."
https://www.instagram.com/p/Bh6mjxIBpBg/?utm_source=ig_embed
As soon as the family left the hospital—Prince William, Prince George, and Princess Charlotte included—Kate Middleton and Prince William posed with the new baby for the famous Lindo Wing photo op, which was also done by Princess Diana.
https://www.instagram.com/p/BiEdt8tgxso/?utm_source=ig_embed
Since then, Prince Louis has gotten so big! Not only did the family post photos for the christening, but they also posted photos for other major birthdays or holidays that have really shown Prince Louis' blossoming personality. One of the photos included the photo they used for their Christmas card the past year!
https://www.instagram.com/p/BrXYSdHFcz-/?utm_source=ig_embed
A few months have passed since that Christmas photo, and more photos have been released of our favorite little prince in honor of his 1st birthday!
https://www.instagram.com/p/Bwkq68KF-xS/
Be sure to click on the right arrow to see the next photo! He's getting so big and looks just like his older brother, Prince George.
https://www.instagram.com/p/Bwkq–RFHDM/
They grow up so fast! We're absolutely in love with these new photos of Prince Louis. What a handsome little man!
Be sure to SHARE this article in honor of Prince Louis' birthday!
Check out the video below for more coverage on Prince Louis' birthday: