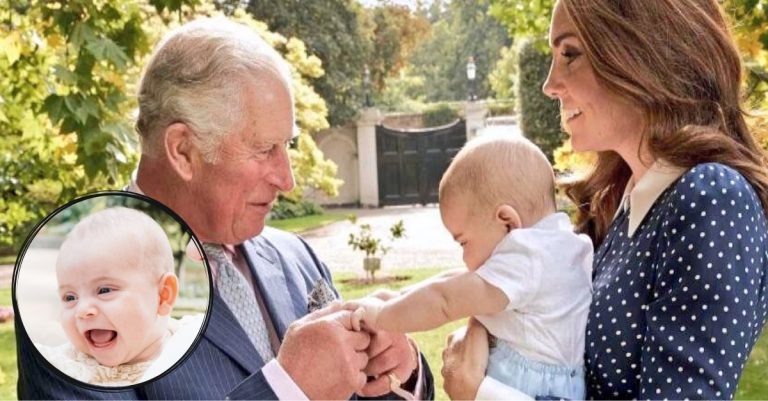 In light of Prince Charles' 70th birthday, a number of exclusive family photos were posted and we just can't get enough of them! Several members of the Royal Family came together for a family portrait for Prince Charles' big day, but what the Internet can't get enough of is the adorable bonding moment between Prince Louis and Prince Charles.
Only recently were we bestowed with the honor of seeing some of the first photos of Prince Louis at his christening.  The photo with Prince Louis and Prince Charles was included during the premiere of BBC documentary titled Prince, Son & Heir: Charles at 70. See the photo below!
Tucked away in tonight's @BBCOne documentary on Prince Charles at 70 was a @ChrisJack_Getty picture of grandad with Prince Louis 📷 pic.twitter.com/S8zrZRMvQR

— Chris Ship (@chrisshipitv) November 8, 2018
Another thing people cannot get over is how much Louis resembles his older brother, Prince George. It's unclear when the photo above was taken, but rumors point to early September when the Royal Family posed for a family portrait for Prince Charles' birthday.
Louis was sporting a white top and light blue shorts, while George appeared to be dressed in a light-colored blouse and black shorts. But they sure do have the same smile!
https://www.instagram.com/p/BlSWcJunlMb/
There's no telling when there will be another spark of Prince Louis photos or if Prince Charles will be included in them for a wholesome grandfather-grandson bonding moment. Another quality-time bonding moment took place between Prince George and Prince Charles as well during the Royal Family portrait.
George was placed on Prince Charles' knee as they posed for photos and we just can't get over those smiles.
https://www.instagram.com/p/BqIwkq8Ff2R/
According to reports and the BBC documentary itself, Prince William has been adamant about wanting his father to spend some more time with the grandkids.
"When he's there, he's brilliant," William says in the documentary, "But we need him there as much as possible," William states that while Charles is the most hard-working man he knows and values his work, he wants the grandfather of three to slow down and spend some quality family time.
https://www.instagram.com/p/BlRHhdennQ7/
"It's a perfect time to consolidate a little bit. As most families would do, you are worried about having them around and make sure their health's OK," William explains, "He's the fittest man I know, but equally I want him to be fit until he's 95. Having more time with him at home would be lovely and being able to you know, play around with the grandchildren."
Prince Harry agreed in the documentary, saying that Charles will often have a late night dinner and then fall asleep at his desk on top of his notes. We're hopeful that he'll be getting a lot more family time in now!
https://www.instagram.com/p/BqAA87EAYd2/
Be sure to SHARE this article if you loved this adorable photo of Prince Charles and Prince Louis together!