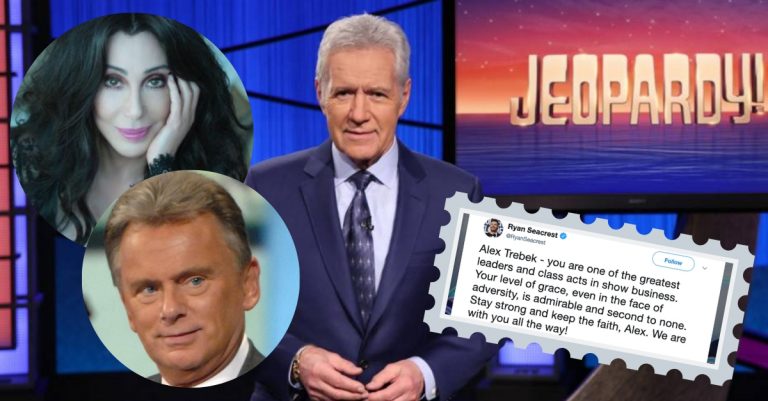 Just recently, Alex Trebek, long-time host of the game show Jeopardy!, announced that he was diagnosed with stage 4 pancreatic cancer. Since then, an outpouring of love and support from other celebrities have surfaced on the Internet, wishing the best for Trebek's well-being. Trebek announced himself that he plans to not be a 'statistic' given the grim prognosis for pancreatic cancer.
Upon the announcement of the diagnosis, Trebek has confirmed that he will continue working as the host of Jeopardy! for as long as he can and appears to be very strong-willed and hopeful. Check out the outpouring of love from celebrities below.
https://twitter.com/patsajak/status/1103418697270681600
Wheel of Fortune host Pat Sajak offered his love, support, and perseverance to Trebek in his time of health struggles, saying that, "there is no one I know who is stronger and more determined, and I would never bet against him."
Sending Love & Prayers To Alex Trebek🙏🏻.I've Been Playing JEOPARDY With Him Since I Was In My 20's,..Ahhh..30's,
🤔Hhmm…40's😱,..50's🤔, OMG..60's🤔
I'LL NEVER BE TOO OLD TO
PLAY.
SON Used To Say
"Cher…You're Such a Kid"👧🏻

— Cher (@cher) March 7, 2019
Cher was another celebrity that expressed her sympathies and love through emojis and kind words on Twitter. "Sending love and prayers to Alex Trebek," she said, "I've been playing Jeopardy with him since I was in my 20s… I'll never be too old to play."
Alex Trebek – you are one of the greatest leaders and class acts in show business. Your level of grace, even in the face of adversity, is admirable and second to none. Stay strong and keep the faith, Alex. We are with you all the way! https://t.co/mBvVWZNpzU

— Ryan Seacrest (@RyanSeacrest) March 7, 2019
Ryan Seacrest of Live with Kelly and Ryan also had nothing but kind things to say about the 78-year-old game show host. "Your level of grace, even in the face of adversity, is admirable and second to none. Stay strong and keep the faith, Alex. We are with you all the way!"
https://www.instagram.com/p/BusK4haHaCt/?utm_source=ig_embed
Even some of Trebek's previous Celebrity Jeopardy! contestants spoke out following the cancer diagnosis, Ana Navarro-Cárdenas being one of them. She reflects on her time playing Celebrity Jeopardy!, but more so how wonderful of a person Trebek was during her time on the show.
"Even though I didn't win, I loved him at "hello". He has asked for prayers as he confronts this health challenge. Let's keep him in our thoughts."
Thinking and praying for fellow game show host and absolute legend Alex Trebek as he starts his fight with pancreatic cancer. God's speed my friend https://t.co/W0JJnlS6LY

— Chris Harrison (@chrisbharrison) March 6, 2019
Host of The Bachelor, Chris Harrison, extended his utmost support and prayers for Trebek during this time. "God speed, my friend," he says.
One thing I know for a fact: Alex is very aware of how much he means to millions of people, and how we will be pulling for him…I hope that's a comfort.

— Ken Jennings (@KenJennings) March 6, 2019
Ken Jennings, known for holding the record for the longest winning streak on Jeopardy! in addition to highest average correct responses per game, also had some powerful statements about Trebek and his character. He also provided an opinion piece on Trebek for the NY Times.
We hope that our favorite game show host pulls through! All the love and prayers to him at this time.
Be sure to SHARE this article if you love Alex Trebek and Jeopardy!.