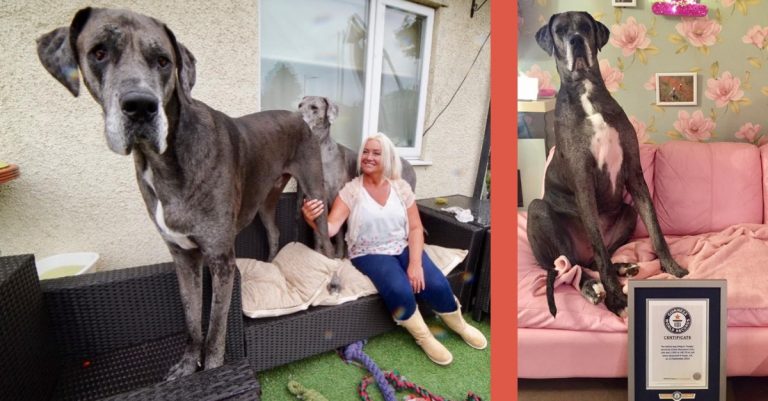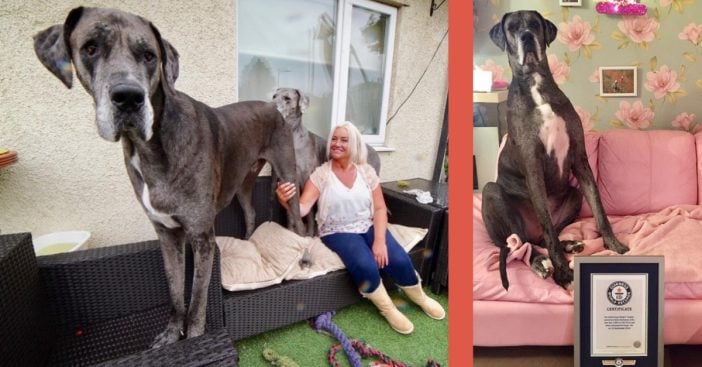 UPDATED 3/10/2021
Meet Freddy the Great Dane. Standing at exactly 7 feet 6 inches tall, Freddy the Great Dane has officially been named the tallest dog in the world! Claire Stoneman was prepared to care for a dog rather big in size, but she was not prepared for this. The average adult male weighs up to 190 lbs and stands 33 inches tall at the shoulders. So, Great Danes, in general, are much bigger than the average dog.
Freddy, however, surpasses the rest of them and was officially recognized by Guinness World Records just a few weeks ago. He even earned a certificate to show for it!
Meet Freddy, the 7-foot-tall Great Dane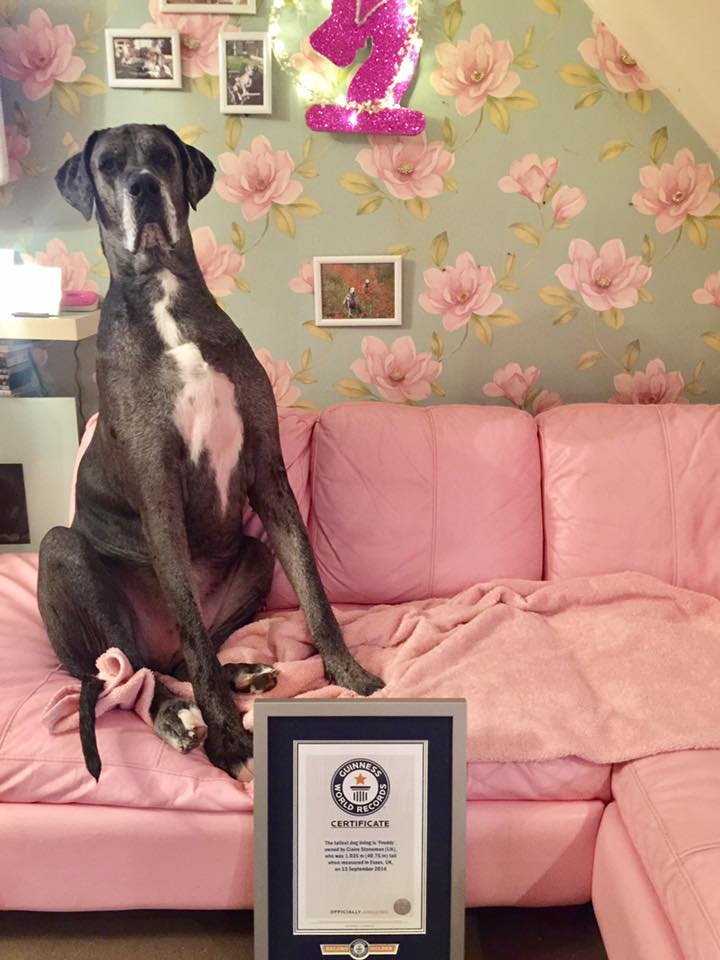 Freddy tips the scale at just over 200 lbs and is two feet taller than his owner when he stands up on his hind legs. Imagine that! But, despite this, Claire absolutely adores her furry friend and wouldn't have it any other way. She pretty much treats him, and his sister Fleur, like her own children. So much that her grocery bills topple $15,000+ every year.
She knows it's worth it. While the younger version of Freddy would've loved to chew up sofas and spread the foam across the floor, these days he's more interested in napping and eating (actual dog food).
Claire goes above and beyond to care for Freddy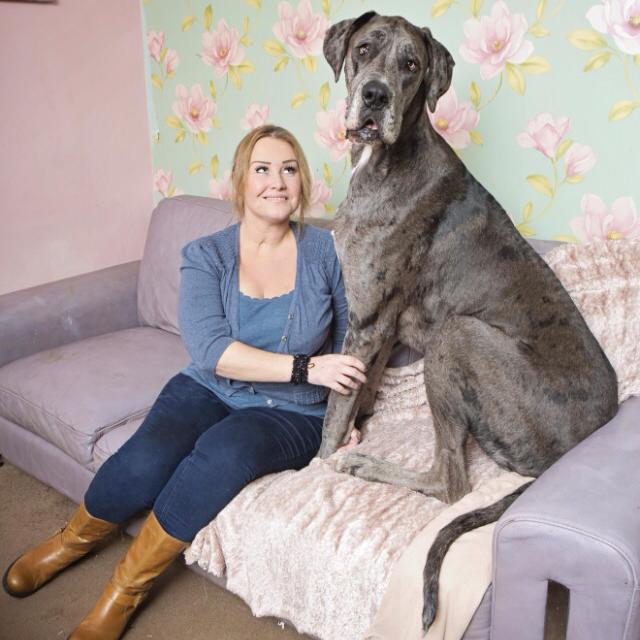 Claire even sacrifices her own sleep schedule to accommodate Freddy's special walking needs. Because of his size and stature, they go for walks early in the morning when other dogs and their owners are sleeping to avoid any altercations between Freddy and other dogs who may be scared of him.
Should Freddy decide to go after one of the smaller dogs, Claire would not have the strength to stop him with him being so big! Now, that's a devoted mother.
He thoroughly enjoyed his last years of life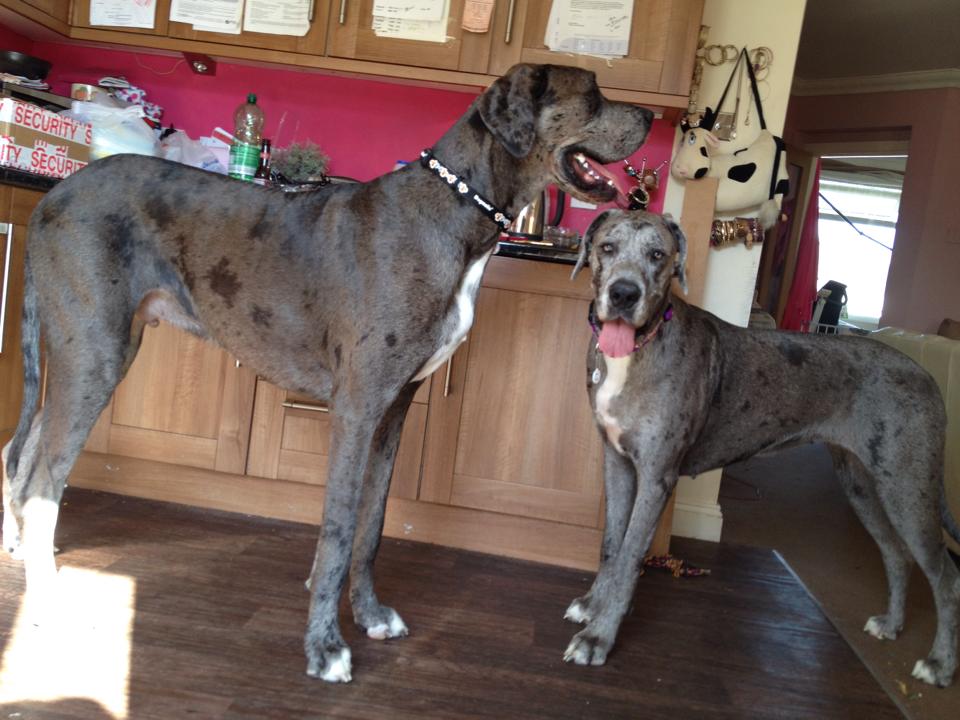 So, what was Freddy up to in his last few years of life? Just the usual. Sleeping, eating, and enjoying his new, well-deserved Guinness World Records title. For those who are the ultimate dog lovers and can't get enough of this 7-foot cuddle muffin, Freddy has his own Facebook page which is run by his owner, Claire.
She frequently updates the Facebook page with posts, pictures, videos, and more of what the pups are up to! With this being said, fans of Freddy often share photos of their own dogs on the Facebook page, too! We are more than happy with the dog-loving fest going on.
Remembering the legacy he left behind
Sadly, Freddy reportedly died back in January 2021. He lived to be 8.5 years old, and Guinness reported that most Great Danes live to be anywhere between 8 and 10. "He was my life. My reason. My joy. My annoyance," says owner Claire. "My happiness and my ultimate sadness. He was my heart Dane. My one-in-a-million and loved by the entire world."
"I still can barely believe that he was the runt of the litter. Freddy brought a smile to everyone's face and will be missed by everyone at Guinness World Records. I'm just pleased that we got the chance to celebrate his record-breaking immensity in the books and share his story with millions of people around the world."
Be sure to SHARE this article if you love Freddy! Rest in peace and love.