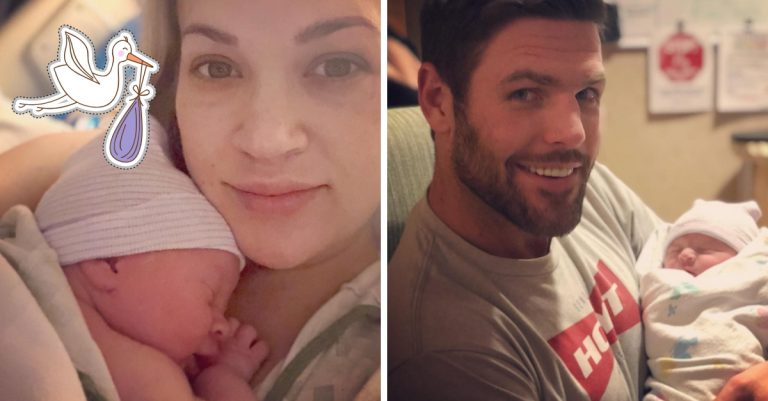 Carrie Underwood recently gave birth to a baby boy. She welcomed her second son with her husband Mike Fisher on January 21, 2019. Little Jacob joins the family which already includes three-year-old Isaiah.
Carrie shared the big news on her Instagram page two days after giving birth. The caption read, "Jacob Bryan Fisher entered the world in the wee hours of the morning on Monday…his mom, dad, and big brother couldn't be happier for God to trust them with taking care of this little miracle! Our hearts are full, our eyes are tired and our lives are forever changed. Life is good…"
Check Out The Photos
View this post on Instagram
She shared three photos. One of her husband Mike with Jacob, one of herself with Jacob, and one of Mike helped little Isaiah hold his new baby brother. Carrie had announced that she was pregnant in August 2018. At the time, she also revealed the news of her upcoming 2019 tour called Cry Pretty 360 tour. She will begin touring in the spring.
View this post on Instagram

She confirmed the sex of the baby while hosting the 2018 Country Music Association Awards. She told the world that she was having another boy. The due date also slipped that night, but not from Carrie. Taylor Dye from the group Maddie & Tae said that Carrie's baby was due in January. Maddie & Tae will be joining Carrie on her upcoming tour.
This Baby Is Good News For Carrie And Her Family After Tragedy
View this post on Instagram
She shared in an interview that she was so happy about the new baby because she had suffered from three miscarriages in the last two years. She also fell and injured her face and had to get surgery. It was a rough few years indeed.
View this post on Instagram

Send your love and congratulations to Carrie Underwood and her family! The baby is so adorable, we can't wait to see more photos on her Instagram page. She previously shared some cute pictures of her baby bump and how her family helped her navigate pregnant life. For example, she posted a photo of herself wearing Mike's shirt with her son cuddling the bump. She posted it on New Year's Day. It looked like a cozy start to the New Year.
View this post on Instagram
Are you excited for Carrie Underwood and her family? Do you love seeing these photos of her precious newborn? If you enjoyed this article and the photos, please SHARE with your friends and family who love Carrie Underwood!
Listen to one of Carrie's songs that she will likely be playing on her upcoming tour. Will you be attending?