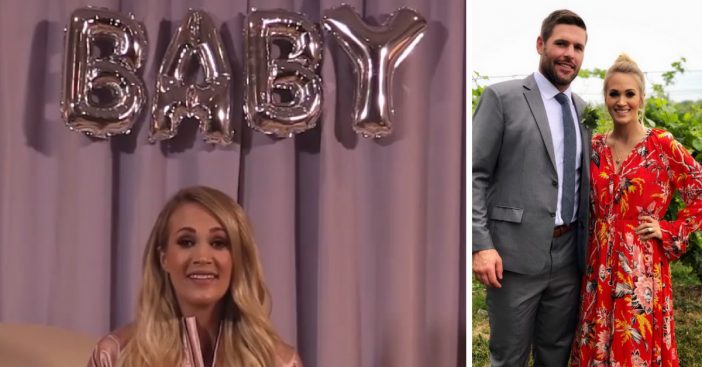 Country-pop singer and former winner of American Idol, Carrie Underwood and her husband, former NHL player Mike Fisher, are expecting their second child. Carrie announced the news today, August 8, 2018, on her Instagram page, also revealing that her tour will start on May 1, 2019.
As she announced her kickoff tour date, she said that fans might be asking why the tour will be starting in May. She then revealed balloons that spelled "baby" above her head and announced her pregnancy. Check out her announcement on Instagram below! How sweet is it?
View this post on Instagram
Carrie and Mike have been married since 2010. They have one child, 3-year-old Isaiah Michael. She also revealed how excited the trio is about adding another baby to the mix. They look like such a nice family!
View this post on Instagram
Carrie's last tour was in 2016 and she brought her son along for the ride. Chances are very high that this new baby will be in attendance for her 2019 tour. She releases her sixth album, Cry Pretty this year.
View this post on Instagram
Carrie was in the news lately for taking a severe fall outside her home last November. She suffered a broken wrist and many horrible cuts to her face. She said she needed surgery and 40-50 stitches in her face. She told fans that she wasn't quite looking the same and took some time out of the spotlight.
View this post on Instagram
However, as you can tell, she is looking as gorgeous as ever. We are so happy for Carrie, Mike, and Isaiah as they embark on this journey together welcoming a new baby and a new tour!
View this post on Instagram
Do you like Carrie Underwood? Will you go see her perform during her tour next year? Are you excited to learn more about baby number two for the family?
View this post on Instagram
If you enjoy reading about babies, please SHARE with your friends who love Carrie Underwood or baby announcements!