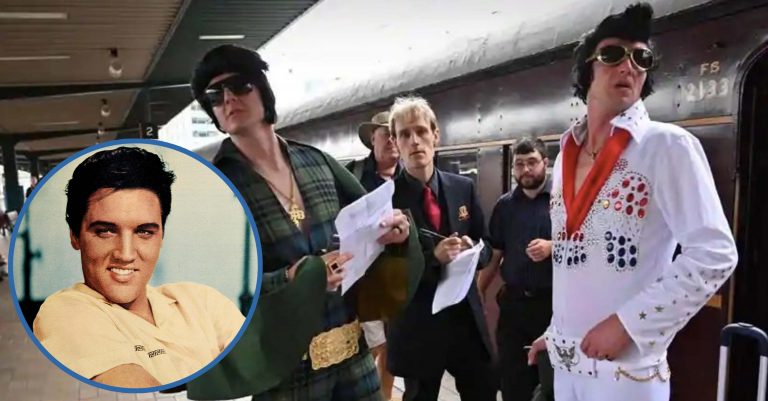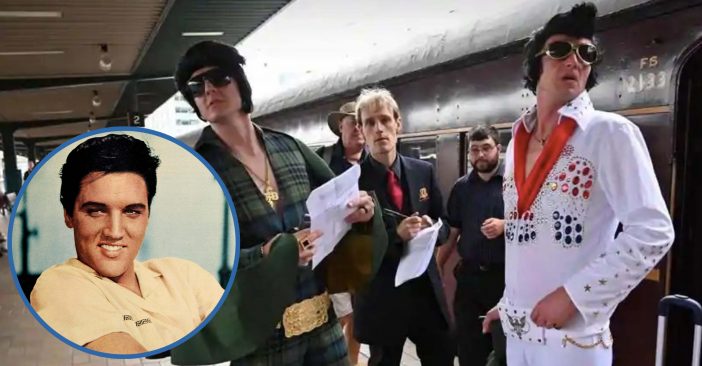 Fans of Elvis at Central Station in Sydney, Australia gathered for the Elvis Express, which takes passengers all the way to an Elvis Festival in Parkes which is entirely dedicated to celebrating the King of Rock and Roll.
Many of the passengers take the opportunity to dress up in some of Elvis's favorite and most iconic outfits, including the famous white sequined jumpsuit. The train was first held in 1993 to coincide with the singer's birthday on January 8th and the official Elvis Festival has been coined as the "Elvis Capital of Australia."
Elvis Presley may have "left the building" four decades ago, but his spirit was alive and well at Sydney's main station on Thursday, as hundreds of fans boarded trains to an outback festival celebrating their idol. pic.twitter.com/Ck3BsWplK3

— Hindustan Times (@HindustanTimes) January 11, 2019
Another one of the trains that were available for boarding was the "Blue Suede Express," which one passenger was boarding for her 60th birthday in Parkes. The Blue Suede Express was a 50s-era diesel.
"He was just a gorgeous guy and I just loved all the music and his love songs," said Lynette Mar, "It's just great dance music."
Dressed in colourful sequined jumpsuits, trademark suede shoes and hairsprayed pompadours, lookalikes sang and danced to hits belted out by tribute artists. https://t.co/5aP1itJzsm pic.twitter.com/QIuw5miZyZ

— Hindustan Times (@HindustanTimes) January 11, 2019
Parkes, which is best-known for their radio telescope playing a huge role in the Neil Armstrong moon landing of 1969, transforms into a huge five-day tribute festival for the King each year. One of the regular festival attendees spoke about how much fun this Elvis festival is. Jenny Dollin was also dressed in a plastic cap shaped like Elvis's pompadour hairstyle, a white tunic top, and bell-bottoms.
"I go to Parkes because it's so much fun. We have a lovely time, I love the Elvises," Dollin explains, "The people at Parkes are so friendly… Everyone on the train is very friendly and it's just a really good time."
Their destination aboard the aptly named "Elvis Express" and "Blue Suede Express" was the Parkes Elvis Festival, an annual event celebrating the music and life of Elvis Presley in the New South Wales town of Parkes. pic.twitter.com/OVTcDgyCuC

— Hindustan Times (@HindustanTimes) January 11, 2019
Over 25,000 visitors were expected at the festival this year, but it's very clear that the best part of the entire day is the Elvis-themed train ride.
The official Graceland website, which has all information Elvis-related, is well-informed about the Elvis Express and festival going on in Australia. On their website, they said, "What started as a small get together between likeminded Elvis fans back in 1993 has today grown into an internationally renowned event endorsed by the estate of Elvis Presley. The festival turns 25 this year and will celebrate with a "Viva Las Vegas" theme, so get set for a neon lit bejeweled sin city spectacular!"
The party atmosphere was a fitting tribute to the cultural and musical legacy of "The King", whose appeal has spanned decades and generations. pic.twitter.com/JVIdeDOEvX

— Hindustan Times (@HindustanTimes) January 11, 2019
"Always a highlight of Parkes Elvis Festival, the Northparkes Mines Street Parade, with Elvis-themed floats, vintage cars and marching bands to boot."
All we know is… we need an Elvis-themed festival here in the United States! Who else agrees?
First held in 1993 to coincide with the singer's January 8 birthday, the Elvis Festival has placed the mining town on the tourist map and earned it the moniker "Elvis Capital of Australia" pic.twitter.com/NXmHJPwq7r

— Hindustan Times (@HindustanTimes) January 11, 2019
Be sure to SHARE this article if you love the idea of an Elvis Express and would ride on it every day if you could!