Frank Lloyd Wright is one of the most famous American architects in the world. His homes are seriously stunning, and one of them in St. Louis is going for $1.2 million. The best part about it is that this house hasn't been touched since the 1960s, so if you love vintage-looking furniture and overall interior, this is the house for you!
This house, in particular, belonged to the couple Paul and Helen Olfelt, who had commissioned Wright to design their home in 1958. Wright worked on the home until his death in 1959, and the couple had been residing there until now! The couple is in their nineties and they are finally unleashing the home on the market for the first time, ever.
As you can see, the house looks absolutely stunning, especially in the snow! The lights from the interior part of the house light up the night through the large-scale windows in the home.
Some of the rooms even still include the original Wright chairs. Many of the different elements throughout the house are original Wright pieces, giving a proper nod to the '60s.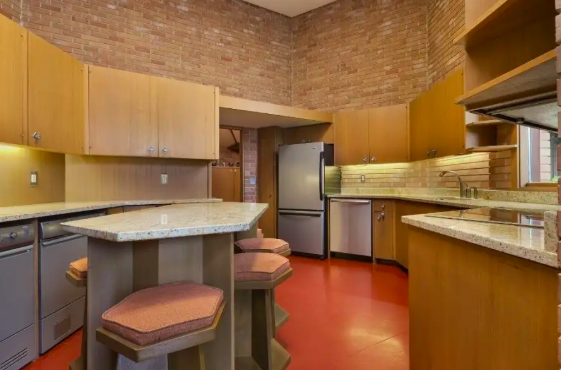 The kitchen even features proper Wright aesthetic, from the color schemes to the texture of the tiles and hardwood cabinets. Additionally, hardwood is a key feature throughout the house, so if you don't like hardwood, this isn't for you!
The bedroom features a lovely brick wall that coincides nicely with the hardwood window frames. The large-scale windows also provide beautiful natural lighting into the bedroom, which also features what appears to be a red tiled floor with carpeting.
Read onto the NEXT page to see more photos from this 1960s house…