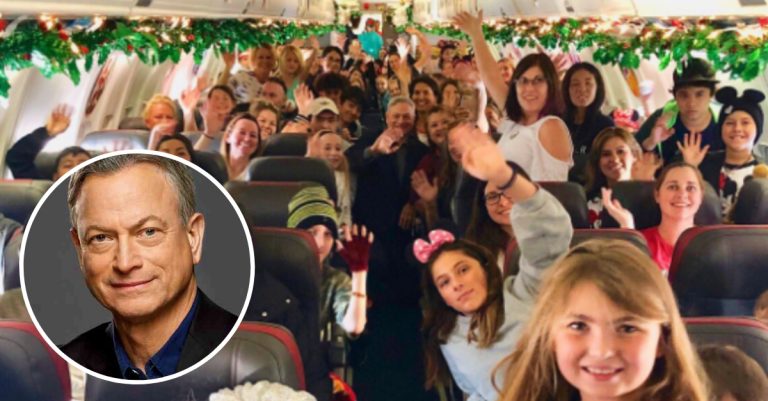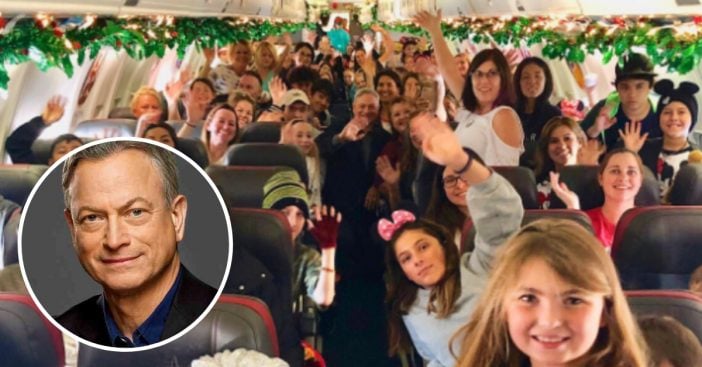 Gary Sinise, best-known for his role as Lieutenant Dan Taylor in the 1994 film adaptation of Forrest Gump, has done what may be thought of as the impossible for many children this Christmas season. Sinise flew over a thousand children to Disney World for Christmas this year whose mothers or fathers died while actively serving in the military.
There is a special non-profit organization dedicated to these kinds of families and children, called Gold Star Children. The non-profit works to raise awareness about those children surviving without their fallen parents by "utilizing film and interactive media, the current goal of Gold Star Children is to distribute the documentary film, "Gold Star Children" to every state in the U.S. and audiences around the world," according to the official Gold Star Children website.
Over 1000 Gold Star Children travel w/ surviving parent, 1,750 in all, via @americanair to Disney World today as part of our @GarySiniseFound Snowball Express program. This charter left LAX this morning. I'll join up in a few days. Have fun kids! We love you! pic.twitter.com/OfMEpVF1er

— Gary Sinise (@GarySinise) December 8, 2018
Sinise is well aware of this organization and decided to take this opportunity to fly out these kids to Disney World as part of a gesture from the Gary Sinise Foundation, who is focused on "honoring veterans, first responders, their families, and those in need," as stated on the official website for the foundation.
With this being the backbone of the Gary Sinise Foundation, it's no wonder that Sinise wanted to team up with the mission statement behind Gold Star Children and help bring smiles to thousands of children's faces who may have lost their parent to war. The exact number of children who were flown out is 1,750 children!
Thank you @GarySiniseFound @SnowballExpress for inviting Patriot Pup! We truly loved giving back to these children whose parents have given their all for us. #NeverForgotten #SnowballExpress2018 #honor #fallen #familiesofthefallen #disney #MagicKingdom #goldstarfamily #healing pic.twitter.com/AdaZzK0prY

— American Brother Foundation (@AmerBrother) December 10, 2018
Sinise calls this gift, in particular, the "Snowball Express". This concept was first started in 2017 and Sinise himself has spoken about the gesture in recent interviews and the reason behind it all. He said:
"Each one of these children who are going on these airplanes have lost a parent in military services – either combat-related or illness or unfortunately suicide sometimes… We wanna take care of these kids and make sure they know we don't forget." He continued, "About 1,700 people from 15 locations across the country board the Snowball Express on their way to a 5-night vacation in Orlando, Florida,".
Together, we're working to improve the lives of the men & women who protect & defend our country & communities. While we can never do enough for our defenders, veterans, first responders, & their loved ones who sacrifice alongside them, we can always do a little more. pic.twitter.com/yw0gPT0kjx

— Gary Sinise (@GarySinise) December 6, 2018
"The most important thing about [the Snowball Express] is that these children don't feel alone. There's a lot of healing and a lot of bonding and a lot of friendship that goes on that helps them through the rest of the year," says Sinise.
He even got Santa Claus to make a special guest appearance for the children! All participating parents and guardians have agreed that this wonderful gesture was a much-needed vacation and helpful healing process.
https://www.instagram.com/p/BrRbARBHla_/?utm_source=ig_embed
Be sure to SHARE this article if you loved this gesture by Gary Sinise!
Check out the news coverage below on the Snowball Express: