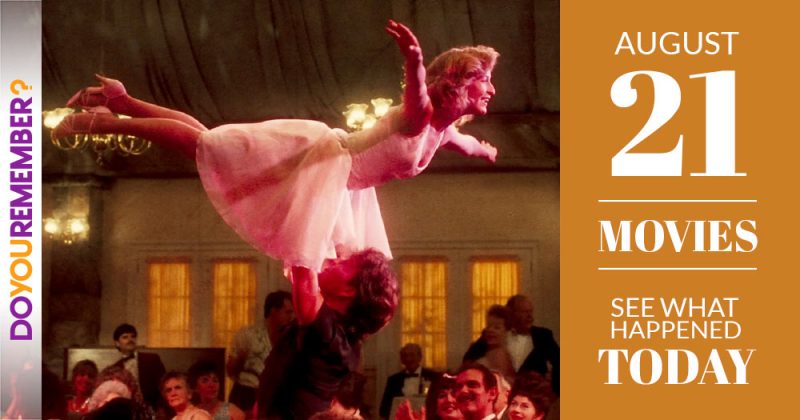 Today premiered Dirty Dancing, a 1987 American romantic drama film. Written by Eleanor Bergstein and directed by Emile Ardolino, the film stars Patrick Swayze and Jennifer Grey in the lead roles, as well as Cynthia Rhodes and Jerry Orbach.

"Born Today"
RJ Mitte (23)

Kasey Musgraves (27)

Hayden Panettiere (26)

Paris Bennett (27)

Usain Bolt (29)

Brody Jenner (32)

Chantelle Houghton (32)

Cameron and Tyler Winklevoss (34)

Kelis (36)

Kimberly Stewart (36)

Alicia Witt (40)

Amy Fisher (41)

Carrie-Ann Moss (48)

Jeff Stryker (53)

Kim Cattrall (59)

Loretta Devine (66)

Patty McCormack (70)

Peter Weir (71)

Jackie DeShannon (74)

Kenny Rogers (77)

Wilt Chamberlain (RIP)
"Died Today"
Danitra Vance (Born: July 13, 1954 / Died: August 21, 1994)

Danny Lockin (Born: July 13, 1943 / Died: August 21, 1977)
"Movies"
"Music"
1957 – The Everly Brothers released the single "Bye Bye Love"
1961 – The Beatles kicked off 92 straight shows at the Top Ten Club in Hamburg, Germany. The foursome played for seven hours a night on weekdays and eight hours on weekends.

1963 – Fats Domino switched recording labels, signing with ABC-Paramount.

1964 – John Lennon was reunited with his father after 17 years.

1966 – David Bowie's first single, "Do Anything You Say" was released.

1966 – The Troggs recorded "Wild Thing" at Regent Sound Studio in London.
1967 – Jefferson Airplane's "Somebody To Love" debuted on the chart.

1967 – The Kinks were in concert for two shows at the Scene '67 Theatre inside Kelvin Hall in Glasgow, Scotland.  

1967 – Frank and Nancy Sinatra hit No.1 with "Somethin' Stupid"

1967 – The Monkees spent their 21st consecutive week at #1 on the Album chart, 13 with their self-titled debut and 8 with

More of the Monkees

.

1968 – Tommy James & the Shondells released the single "Mony Mony"
1968 – The Rascals released the single "A Beautiful Morning"
https://youtu.be/DBmBAUvEEHs
1969 – The Beach Boys sued their record label, Capitol, for $2 million in unpaid royalties.  The group also announced that they were starting their own Brothers Records label.

1970 – Musicians recorded the orchestral scores for the Beatles' songs "The Long And Winding Road" and "Across the Universe" that would be included on the

Let It Be

album. Drummer Ringo Starr was the only group member present in the studio, as his drums were recorded as well. It was the final time that a Beatle was in a recording session until the Anthology series in the 1990's.

1970 – The movie

Woodstock

premiered in Hollywood.

1970 – Over one million postal ticket applications were sent to Earls Court in London for the forthcoming series of six European concerts by the Rolling Stones.

1972 – Dr. Hook debuted on the chart with their first single, "Sylvia's Mother"
1972 – The Allman Brothers Band entered the Top 10 albums with 

Eat a Peach

.

1972 – Roberta Flack wasted no time reaching #1 on the Adult chart with "The First Time Ever I Saw Your Face"
1972 – America remained at #1 with "A Horse With No Name" as Neil Young continued at #2 with "Heart Of Gold"

1974 – Paul McCartney & Wings released "Band On The Run"
1976 – AC/DC made their live U.K. debut at the Red Cow in Hammersmith, London.

1976 – Pink Floyd guitarist David Gilmour's house was broken into and guitars valued at over

£

7,000 were stolen.

1977 – Elvis Presley was admitted to a hospital in Memphis, Tennessee following fatigue and intestinal flu. He was confined to a hospital bed for six days.

1978 – The Philadelphia Fury soccer team, owned by Paul Simon, Peter Frampton, James Taylor and others, made their debut.

1978 – The #1 song in the U.K. was "Denis" by Blondie.
1978 – Roberta Flack and Donny Hathaway rose to #1 on the R&B chart with "The Closer I Get To You"

1978 – The

Soundtrack to

"Saturday Night Fever"

prevailed for an 11th week at #1 on the Album chart.

1982 – Toto released the single "Rosanna"
1982 – John Cougar released the single "Hurts So Good" on Riva Records.

1984 – Marvin Gaye was shot dead by his father at his parent's home in Los Angeles. Gaye had tried to intervene in a squabble his parents were having over misplaced documents, but was killed by the gun Gaye had given his father just four months before. Marvin Gaye, Sr. pleaded guilty to manslaughter after first-degree murder charges had been dropped due to the discovery that he had a brain tumor.

1989 – Guns N' Roses released the single "Patience"
1989 – Madonna collected her third #1 album in the U.K. with

Like A Prayer

.

1991 – Mariah Carey released the single "I Don't Wanna' Cry"
1993 – Carole King, David Crosby, Kenny Loggins, Phish, and Ann & Nancy Wilson of Heart played a benefit concert in Portland, Oregon to save the forests.

1993 – Willie Nelson's tour bus crashed into a car in Riverdale, Nova Scotia, Canada, killing the car driver.

1995 – Montell Jordan had the new #1 song on the R&B chart with "This Is How We Do It"
1995 – Madonna's "Take a Bow" was #1 overall for a sixth week.  
"TV/Radio"
1965 – The Who recorded a show at a Manchester, England television studio for an appearance on the television show

Top of the Pops

.

1971 – Led Zeppelin performed in concert for the BBC Radio show

Rock Hour

at London's Paris Theater. The group performed songs from their forthcoming fourth album.

1975 – The Bay City Rollers' TV series

Shang-A-Lang

premiered on ITV in the U.K.
"Other Important Events…"
1984 – Clint Eastwood was given a star on the Hollywood Walk of Fame.

1997 – Cicely Tyson received a star on the Hollywood Walk of Fame.

1998 – Wesley Snipes received a star on the Hollywood Walk of Fame.