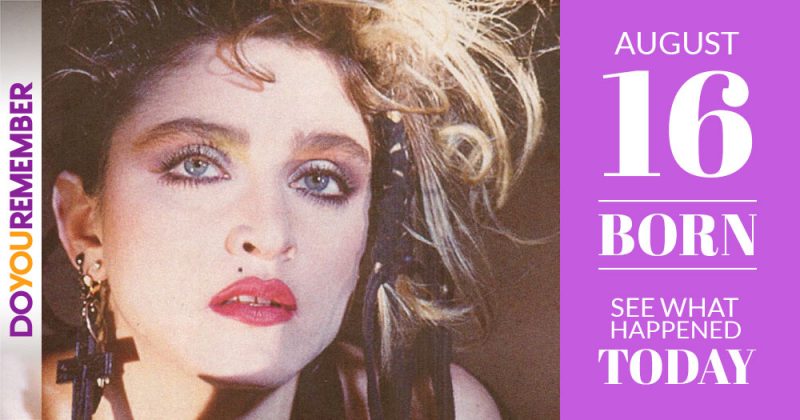 https://youtu.be/zHW5RVvg2v4
Born today-Madonna Louise Ciccone (born August 16, 1958) is an American singer, songwriter, dancer, actress, and businesswoman. She achieved popularity by pushing the boundaries of lyrical content in mainstream popular music and imagery in her music videos, which became a fixture on MTV.

"Born Today"
Greyson Chance (18)

Cameron Monaghan (22)

Evanna Lynch (24)

Rumer Willis (27)

Parker Young (27)

Shawn Pyfrom (29)

Agnes Bruckner (30)

Cristin Milioti (30)

Cam Gigandet (33)

Vanessa Carlton (35)

Emily Robison (43)

Jase Robertson (46)

Donovan Leitch (48)

Steve Carell (53)

Timothy Hutton (55)

Madonna (57)

Angela Bassett (57)

Laura Innes (58)

James Cameron (61)

Kathie Lee Gifford (62)

Reginald VelJohnson (64)

Dee Hoty (63)

Lesley Ann Warren (69)

Julie Newmar (82)

Ann Blyth (87)

Frank Gifford (RIP)
"Died Today"
"Movies"
"Music"
1957 – Ricky Nelson recorded "Be-Bop Baby" at Master Recorders in Hollywood, California.
1957 – The Everly Brothers recorded "Wake Up Little Susie" in Nashville, Tennessee.

1957 – Buddy Holly & the Crickets played at the Apollo Theater for one week beginning on this date.

1960 – Elvis Presley began filming of the movie

Flaming Star

.

1961 – Patsy Cline recorded "Crazy." The ballad composed by Willie Nelson became one of her signature tunes and gave Cline a #2 country hit in 1962. Nelson originally wrote the song for Billy Walker, but Walker turned it down.
https://youtu.be/K-wJNpWgss8
1962 – Twelve-year-old Stevie Wonder released his first 45, "I Call It Pretty Music (But The Old People Call It The Blues)."  Marvin Gaye was the drummer.

1966 – The Monkees released their first single "Last Train To Clarksville"
1966 – The Byrds played at the Fillmore in San Francisco, California.

1966 – During their last tour, the Beatles performed at John F. Kennedy Stadium in Philadelphia, Pennsylvania.

1968 – The Beatles made 14 takes in recording "While My Guitar Gently Weeps" for their upcoming

White Album

.
1968 – The Jackson 5 made their live debut opening for the Supremes at the Forum in Los Angeles.

1969 – Merle Haggard's "Workin' Man Blues" hit #1 on the

Billboard

country singles chart.
1969 – Creedence Clearwater Revival, The Who, Jefferson Airplane, Santana, Sly & the Family Stone, Janis Joplin, Canned Heat, John Sebastian, Mountain, Country Joe McDonald, the Incredible String Band, the Keef Hartley Band and Quill performed at Woodstock in Bethel, New York.

1969 – Zager & Evans made it six weeks at #1 with "In the Year 2525"
1969 –

Blood, Sweat & Tears

spent its seventh week at #1 on the Album chart.

1970 – Elvis Presley collected his 16th #1 in the U.K. with "The Wonder Of You"
1974 – The Ramones gave their first public performance at the CBGB in New York City.

1975 – Peter Gabriel announced that he was splitting from Genesis to start a solo career.

1975 – The Stylistics had the top U.K. song with "Can't Give You Anything (But My Love)"
1975 – The Eagles spent their fifth week at #1 on the Album chart with

One of These Nights

.

1976 – Gordon Lightfoot released "The Wreck Of The Edmund Fitzgerald"
1977 – Elvis Presley died of coronary arrhythmia at the age of 42 in Memphis, Tennessee.

1980 – Diana Ross conquered the AC chart when "Upside Down" reached #1.
1983 – Paul Simon married Carrie Fisher in New York City.

1985 – Madonna married Sean Penn in Malibu, California.

1986 – Rick Allen, drummer of Def Leppard, played his first concert with the group since losing his left arm in a traffic accident at the Monsters of Rock Festival at Castle Donington, England.

1986 – Peter Cetera stayed at #1 on the Adult Contemporary chart for the fifth week in a row with "Glory Of Love"
https://youtu.be/1cUx11m2ZaU
1986 – "Twist and Shout" by the Beatles became the fastest-rising song on this date
1994 – Crosby, Stills and Nash released the album

After the Storm

.

1995 – Brian Wilson of the Beach Boys performed in concert for the first time with daughters Carnie and Wendy Wilson of Wilson Phillips.

1997 – Over 30,000 fans came to Graceland in Memphis, Tennessee to pay respects to Elvis Presley on the 20th anniversary of his passing.

1997 – Will Smith rose to #1 on the U.K. chart with "Men In Black"
"TV/Radio"
1954 – Jack Paar replaced Walter Cronkite as host of "The Morning Show" on CBS-TV.

1969 – Special guests on this week's

Johnny Cash

ABC television music variety show included, O.C. Smith, (who performed "Son Of A Hickory Holler's Tramp" with Cash), Kenny Rogers and The First Edition, (who performed "Ruby, Don't Take Your Love To Town"), Melanie and Grandpa Jones.

1974 – Chicago starred in the ABC-TV special

Meanwhile Back at the Ranch

. Anne Murray and Charlie Rich were guests.
"Other Important Events…"
1954 – Sports Illustrated was published for the first time. It was claimed that 250,000 subscriptions had been sold before the first issue came off of the presses.