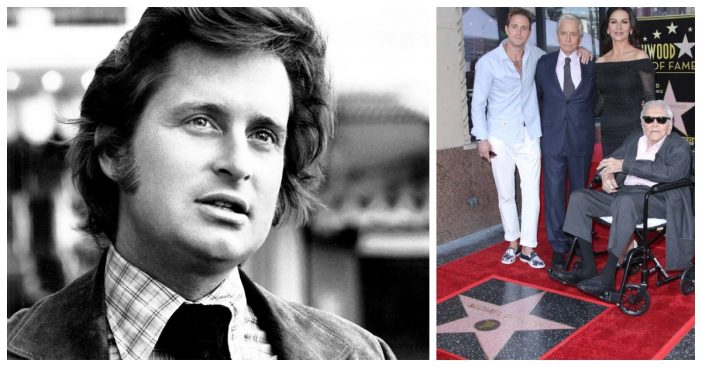 Michael Douglas, age 74, received his own star on the Hollywood Walk of Fame recently and was surrounded by plenty of family members for the special occasion, including his father, Kirk Douglas, age 101.
Douglas has not been seen in the public eye for quite some time due to his old age, except for his appearance at the 2018 Golden Globes alongside daughter-in-law Catherine Zeta-Jones (who made sure to document much of the night's festivities). Douglas had also suffered a stroke 20 years prior, so public appearances were out of the question, but he couldn't not be there for his son's big day.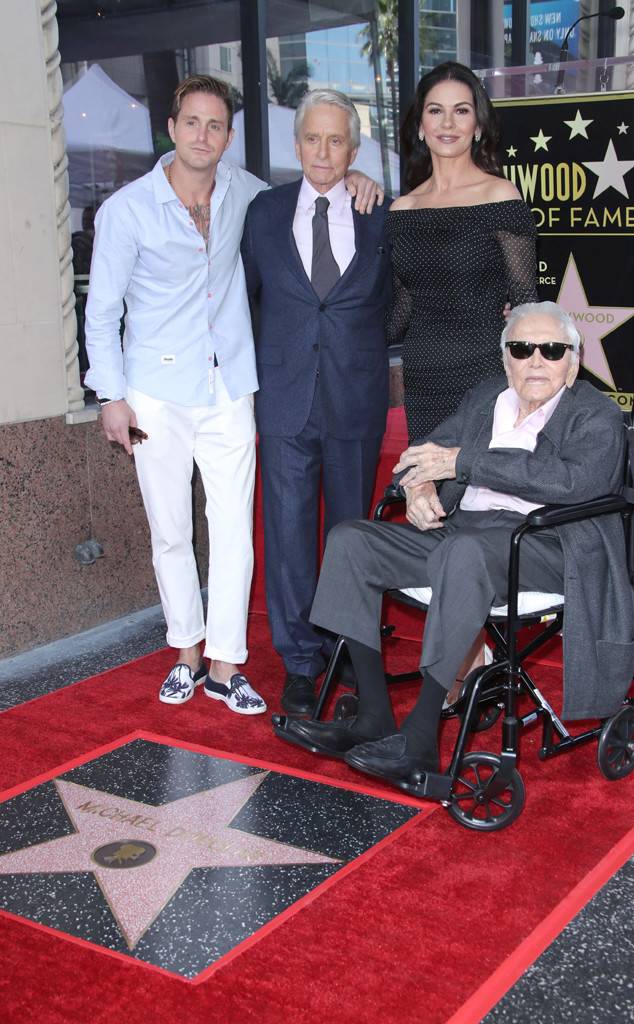 Michael thanked specific members of his family that were there to help him celebrate this honor, giving them special shoutouts by name. Two of them were his son, Cameron, and his wife, Catherine.
"I'm so proud to see my son Cameron," Michael said. He thanked Catherine for her support and patience. He followed up with, "By the way, in another week we're celebrating our anniversary, our 18th anniversary, so thank you for the 18 best years of my life sweetheart."
Michael didn't get emotional or teary-eyed whatsoever, that is until it came time to thank his father. It seems he used some light humor to hold back his tears!
"And my dad is here," Michael began, "In a month, Kirk turns 102 years old. So those of you who took the under on him making 80, you lost a long time ago, alright? I know, I know, no son of yours is celebrating his 50th anniversary in the business. But it means so much to me, dad, that you're here today. Thank you for your advice, for your inspiration, and I'll say it simply and with all my heart, I'm so proud to be your son."
Michael Douglas is known for his wide range of diverse films. Some of his most notable work includes his appearance in the film version of the musical A Chorus Line (1985), psychological thriller Fatal Attraction (1987), Wall Street (1987) for which he won his first Academy Award for Best Actor, and many more.
Film historian and critic David Thomson has commented on the work of Michael Douglas, specifically on the type of roles he's typically cast as. Thomson has described Douglas' typical roles as  "weak, culpable, morally indolent, compromised, and greedy for illicit sensation without losing that basic probity or potential for ethical character that we require of a hero."
One thing for sure is we can't get over the father-son bond between Kirk and Michael. Bless them!
Be sure to SHARE this article and don't forget to check out the full video of Michael Douglas' speech from the Hollywood Walk of Fame below.