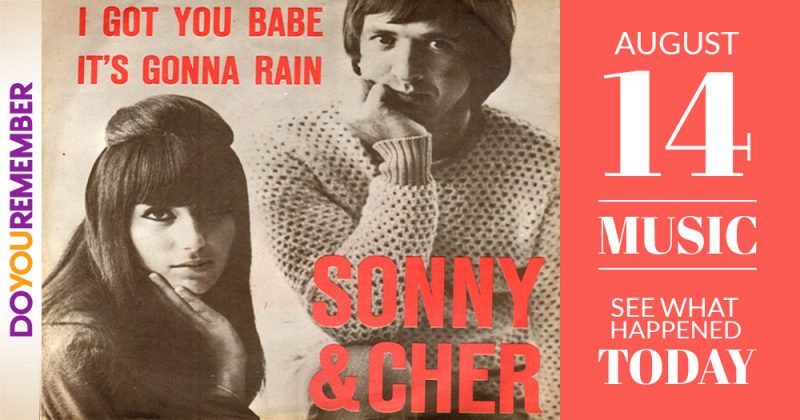 Today in 1965, "I Got You Babe" moved into the #1 slot for Sonny & Cher.

"Born Today"
Tim Tebow (28)

Nick Grimshaw (31)

Mila Kunis (32)

Spencer Pratt (32)

Ana Matronic (41)

Christopher Gorham (41)

Jay Manuel (43)

Preston Lacy (46)

Jennifer Flavin (47)

Catherine Bell (47)

Adrian Lester (47)

Halle Berry (49)

Lady Bunny (53)

Susan Olsen (54)

Sarah Brightman (55)

Marcia Gay Harden (56)

Magic Johnson (56)

Jackee Harry (59)

Carl Lumbly (64)

Danielle Steel (68)

Antonio Fargas (69)

Susan Saint James (69)

Wim Wenders (70)

Steve Martin (70)

David Crosby (74)

Andrea Leeds (RIP)
"Died Today"
William Randolph Hearst (Born: April 29, 1863 / Died: August 14, 1951)

Patrick Magee (Born: March 21, 1922 / Died: August 14, 1982)
"Movies"
"Music"
1962 – John Lennon asked Ringo Starr to become the drummer of the group.  Starr made his debut with the Beatles three days later.

1964 – Johnny Burnette, who made the hit "You're Sixteen" drowned at the age of 30 in a boating mishap at Clear Lake in California.

1965 –

Help!

was the #1 album in the U.K.

1965 –

Beatles V

I may have been the #1 album and

Herman's Hermits On Tour

#2, but the Rolling Stones turned heads as

Out of Our Heads

moved from 93 to 3 on this date.

1965 – James Brown hit #1 R&B song and it was "Papa's Got A Brand New Bag"

1965 – "I Got You Babe" moved into the #1 slot for Sonny & Cher. "Satisfaction" by the Rolling Stones was #2.
1966 – Little Anthony & the Imperials, the Shadows and the Castiles (featuring vocalist Bruce Springsteen) were at the Surf 'n See Club in Seabright, New Jersey.

1966 – "Almost Persuaded" by David Houston was at #1 on the Country chart. The song spent nine weeks at #1 and has since gone on to become a country standard.

1967 – The Association released the single "Never My Love"
1968 – "Fire" by the Crazy World of Arthur Brown hit #1 in the U.K.
1970 – Stephen Stills was arrested on cocaine possession charges at a motel in La Jolla, California.

1970 – Elton John and Manfred Mann were among the acts at the opening day of  the Yorkshire Folk, Blues & Jazz Festival in Krumlin, Yorkshire, England.

1971 – The Moody Blues reached #1 on the Album chart with

Every Good Boy Deserves Favour

.

1971 – "Mercy Mercy Me" was #1 R&B song by Marvin Gaye.

1971 – "If Not For You" took Olivia Newton-John to #1 on the Adult Contemporary chart.

1971 – The Bee Gees posted their first #1 song with "How Can You Mend A Broken Heart."  "Mr. Big Stuff" by Jean Knight was #2 and John Denver's "Take Me Home, Country Roads" at #3.
1971 – Stanley, Idaho's Carole King spent a ninth consecutive week at #1 with

Tapestry

.

1976 – "Getaway" was the new #1 R&B song for Earth, Wind & Fire.
1976 – Peter Frampton returned to #1 for the third time on the Album chart with

Frampton Comes Alive!

1976 – Waylon Jennings was at #1 on the US country album chart with

Are You Ready for the Country

.

1978 – Ambrosia released their single "How Much I Feel"

1981 – The Rolling Stones released the single "Start Me Up"
1982 – Jennifer Holliday's ]"And I Am Telling You I'm Not Going" had a fourth week atop the R&B chart.

1988 – Elite guitarist Roy Buchanan died at the age of 48 after hanging himself in a Fairfax, Virginia jail.

1989 –

New Jersey

by Bon Jovi became the first United States album to be released in the Soviet Union.

1992 – Tony Williams of the Platters died from diabetes and emphysema at age 64 in Daly City, California.

1993 – Freddie Mercury had a solo #1 in the U.K. with "Living On My Own"
1993 – Soul Asylum reached the Top 10 with "Runaway Train"

1995 – The song "Dreaming of You" by Selena was released posthumously
1995 – The Grateful Dead canceled their fall tour after leader Jerry Garcia's death

1995 – Garth Brooks'

The Hits

became the first best-of album by a country-based artist certified for shipments of 7 million units. In June 1995, the master copy of the album was buried under Garth's star on the

Hollywood Walk of Fame.

1999 – Leif Garrett pleaded guilty to drug possession charges to get into a rehab program.

1999 – The Backstreet Boys sold 765,000 tickets for their upcoming North American tour in one day.

1999 – Ronan Keating owned the top U.K. song with "When You Say Nothing At All".
"TV/Radio"
1957 – Nat King Cole canceled his television show on NBC after a year-long search for a sponsor was fruitless.

1965 – The Beatles recorded an appearance for telecast on The Ed Sullivan Show at Studio 50 on CBS-TV in New York City.  The group performed "I Feel Fine", "I'm Down", Act Naturally", "Ticket to Ride", "Yesterday" and "Help!"

1998 – PBS premiered a documentary on Robbie Robertson's Indian heritage. "Robbie Robertson: Making A Noise – A Native American Musical Journey."
"Other Important Events…"
1997 – William Friedkin received a star on the Hollywood Walk of Fame.

1980 – People for Ethical Treatment of Animals (PETA) was incorporated.

1959 – The first meeting was held to organize the American Football League.