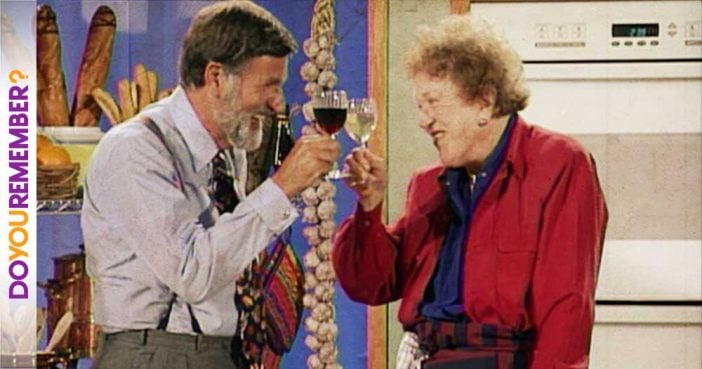 Ask anyone who Julia Child was, the first thing that often comes out is the a reference to Meryl Streep's performance or they start  imitating that iconic "Julia voice".
A little history of me and the teleculinary history of my childhood. I've never been a good cook. My mother can't cook, and what she believes is one of her "specialties" was making the Minute Rice/ Campbell's Onion Soup side dish recipe from the side of the box. I've never once followed a recipe from a book myself or from cards in a file. And we didn't care either. My siblings and I were perfectly happy having a fried chicken Swanson's TV dinner to anything fancy and my brother was able to skip dinner altogether, happily munching on a box of room temperature PopTarts.
Aside from eating out or holidays, the only time we ever had anything fancy, was when our housekeeper from Guyana would mix up a Pepper Pot, or flying fish with rice and yellow peas dish. The latter was yummy, the former was a spicy brew I could live without.
So it's kinda surprising, even to me, that I was drawn to the old TV cooking shows of my childhood.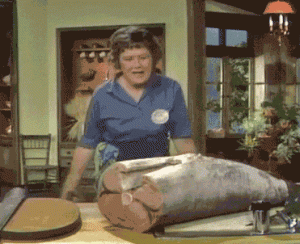 Julia Child was the serious one- almost intimidating. And I thought Graham Kerr's Galloping Gourmet show was flamboyantly funny – like Paul Lynde with a wisk. Of course I heard about but never spent time watching Justin Wilson, Jacques Pepin or many of the others. These shows weren't the first on TV, as cooking shows began with James Beard in the mid-40s. But it was Child, a very tall, big boned woman with this school-marm high pitched shrill that both scared me a little and enticed me to watch.
The early shows were in black and white and there were no special effects. Yet like the chefs of today, they were single-named celebrities. They had great voices to go with their great personalities. They had real talent and it didn't matter that you couldn't see the color of the beef bourguignon or the richness of the red wine that went with it. The way they described it while they were cooking, we saw those colors and savored that beef through the cathode ray tube. I was buying what they were selling. I loved these shows.
What the television picture lacked in color, was more than made up for with the hosts. And the thing I remember most about them was that no matter how much was going on, they were completely in control. That's what I think I liked most. They were like a conductor of a beautiful symphony. They commanded the kitchen and the food came out perfect each and every time.
Sure there's a lot of TV cooking shows now. Food Networks, websites and the like. But back in the day there were only a few, and they were amazing. And even more than once I thought about going out to buy those ingredients and trying to make what they made. But instead, I just peeled back the foil just right, and dropped another TV dinner into the oven.