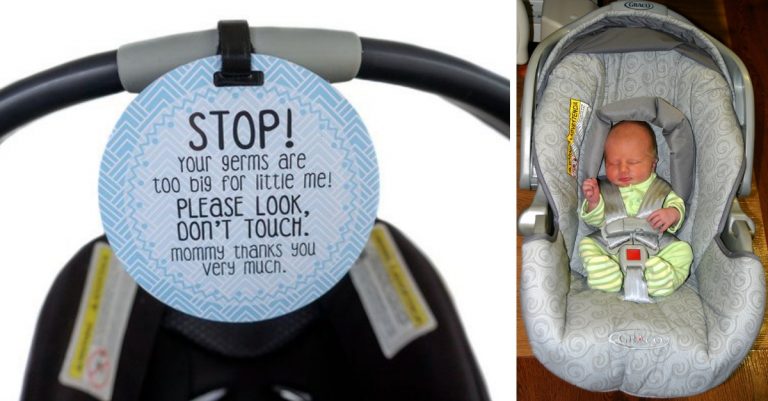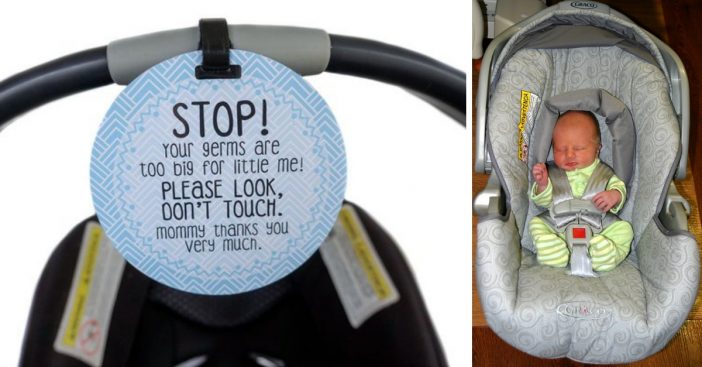 With flu season already started, parents have resorted to putting these signs on their baby's car seats. Signs that say something along the lines of "Don't Touch My Baby!" are being spotted all over the country. It may seem like common sense to not touch a baby you don't know, especially when illnesses are running rampant, but some people don't think about it.
These signs are selling all over, including the popular crafty website Etsy. Some mother forums and Facebook pages are posing the question if people would buy one to put on their baby's car seat. Some say they wouldn't because kids need to be exposed to germs because their bodies need to learn how to fight off sickness.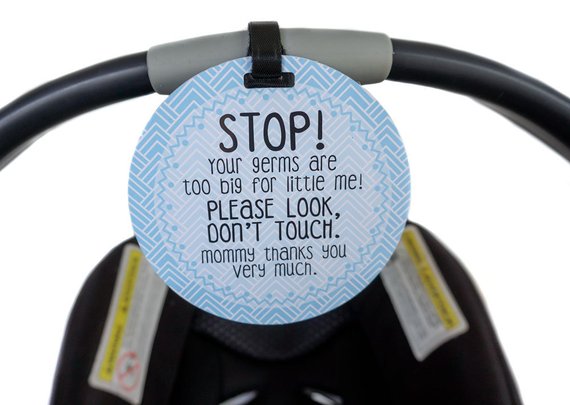 Back in the day, many people didn't worry as much about germs. People joke about how did all these kids survive being handed off to strangers or touched by others. Do you have an early memory of being handed to a stranger at the grocery store while your mother pays for groceries? Others have a different opinion, especially if their child was born ill or has a weakened immune system. A seemingly innocent touch from a stranger could send the baby back into the hospital.
Even if you have a healthy baby, you might want to consider this sign. Some say they aren't afraid of germs, but they just don't like strangers touching their precious baby. Regardless of what side you fall into, a baby's immune system isn't fully developed until they are a few months old. Taking precautions is smart, especially if you have to carry around a newborn during flu season.
What do you think? If you have a baby or a grandbaby, would you carry around one of these signs asking strangers not to touch the baby? Or do you think this is ridiculous and kids need to be introduced to strangers and germs?
Some of these signs are actually pretty adorable and fairly inexpensive. If you are worried about your baby or grandbaby getting sick during an especially bad flu season, it really can't hurt. It may also spark some interesting debates about parenting now and back in the day.
If you found this article interesting, please SHARE with anyone you know who has a baby and ask for their opinion! It might be interesting to get the opinions of older friends and family and new parents.