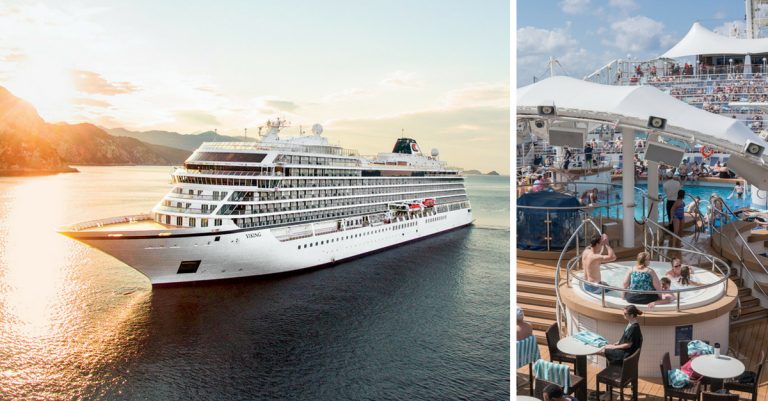 Could you live on a cruise ship for 8 months? Viking Cruises is now offering an 8-month cruise that will take you to 59 countries and 113 port cities. This luxurious cruise can literally take you all over the world in less than a year. It is called the Ultimate World Cruise and it will be the longest ever continuous cruise.
It will depart from London next year in August 2019. Only about 1,000 passengers will be able to fit on this cruise of a lifetime. The cruise ship is Viking's newest luxury ship called The Sun. It is a 745-foot, nine-deck ship.
Are you wondering what is the itinerary for this epic trip? You'll start in the British Isles, the Arctic Circle, and Canada. Then you'll head to the east coast of the United States and the Carribean. You'll go along the eastern coast and part of South America. The halfway point boats a stop in Los Angeles, California. After that, you'll head to the South Pacific, New Zealand, Australia, South East Asia, India, and Egypt. It will end with a few stops in Europe.
If you are worried about being on a cruise ship for that long, there are plenty of amenities on board. The rooms are fairly large with private verandas. There are two pools, outdoor terraces, a spa, a library, lounges, a theater and plenty of restaurants and bars.
So, how much does it cost? Tickets start at $92,990 per person. Luckily, the high cost does cover all excursions, meals, amenities, business class flights, transfers to and from ship, tips and service fees and free WiFi. They are also offering packages for half the trip for those who can't be away from home for almost a year.
Would you ever want to go on a cruise like this if you had the money? It sure does sound amazing and the ship looks gorgeous!
If you enjoy reading about luxury vacations, SHARE with your friends who love them too! What do you think about this luxury trip? It looks pretty awesome to see all of those countries!