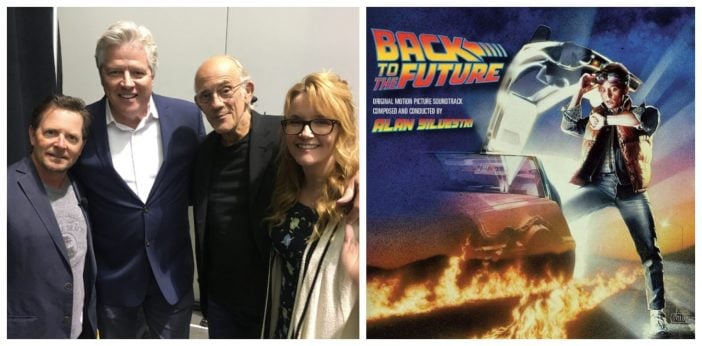 It's been reported that the cast of Back to the Future just reunited at a convention and it's seriously a blast from the past. The legendary 1980s franchise reunion included cast members Michael J. Fox (Marty McFly), Lea Thompson (Lorraine Baines-McFly), Christopher Lloyd (Dr. Emmett "Doc" Brown) and Thomas F. Wilson (Biff Tannen). It was the first time these four had been together again since the 30th anniversary reunion in 2015!
The iconic film spent 11 whole weeks at the #1 spot in the box office, doing remarkably well. It also received award recognition, earning multiple awards from the 58th Academy Awards and the 39th British Academy Film Awards. There have been part 2 and part 3 films made after the success of the first film, but both were not nearly as beloved as the original.
https://www.instagram.com/p/BmUrfRjlTh4/?utm_source=ig_embed&utm_campaign=embed_loading_state_control
Naturally, the question of a fourth film came up among the four friends reuniting, but it seems as though that's not going to happen. They have definitely joked about a fourth sequel coming out, but it looks like they are staying far, far away from another potential box office bomb. Wilson was blunt about the joke, saying, "Basically, I think America is saying, 'Come on, they've wrecked every other franchise with bad sequels, why not this one?' C'mon, we would watch it until it sucks."
https://www.instagram.com/p/Bl3yb4xl-H2/?tagged=backtothefuturemovie
According to reports, both filmmaker Robert Zemeckis and writer/producer Bob Gale are completely against the idea of a fourth film. "That can't happen until both Bob and I are dead. And then I'm sure they'll do it unless there's a way our estates can stop it," Zemeckis said in a 2015 interview when asked about a fourth film. Fans are obviously theorizing why they would be so adamant about avoiding a fourth film, but maybe it's for the best.
https://www.instagram.com/p/BgrEL_mHt8g/?tagged=backtothefuturemovie
The franchise leaves a lasting legacy despite a fourth film not being in the works, possibly ever. It was so huge that President Ronald Reagan even referred to the film in his 1986 State of the Union Address. The film also ranked #28 on Entertainment Weekly's list of the 50 Best High School Movies. Several more similar honors came from The New York Times, The National Film Registry, and Writers Guild of America.
https://www.instagram.com/p/BYnnvEuBwvb/?tagged=backtothefuturemovie
Be sure to SHARE this article if you remember Back to the Future!