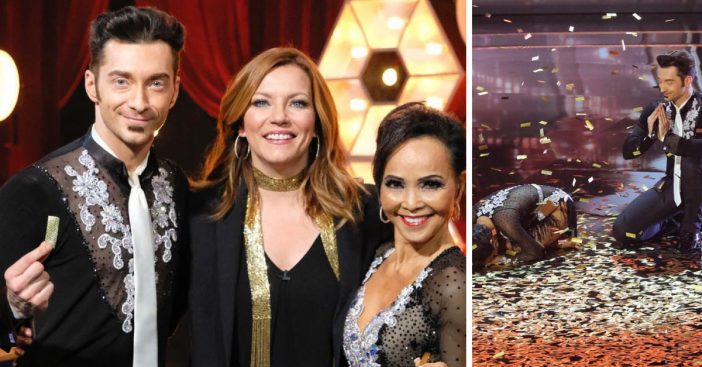 This year's season of America's Got Talent (AGT) has been in the news a lot. First, fans were upset that almost all of the Golden Buzzers were used on singers in this talent competition. This is because there are many other singing competitions out there. Then AGT made history when they had their youngest contestant ever, 5-year-old Sophie Fatu perform.
Now, fans are talking about the latest Golden Buzzer used by guest judge Martina McBride in the mid rounds of the competition show. Martina was very moved by Quin and Misha's dance performance. Quin Bommelje is 71 years old and grew up in Thailand. She didn't start dancing until about 10 years ago. She now performs with Misha Vlasov, who is 35 years old.
https://www.instagram.com/p/BmGse7THLuw/?taken-by=agt
The pair performed lifts, spins, and other dance moves and wowed the judges. Guest judge Martina McBride was so touched that she gave them the coveted Golden Buzzer. She said that the duo inspired people of all ages. They are now moving right to the live show of the competition.
https://www.instagram.com/p/Bl-4-JIHzgJ/?taken-by=agt
Fans of the show had mixed reactions on social media. Many said they were not deserving of the Golden Buzzer because Misha just spun Quin around and it was not that impressive. Others, however, were moved to tears from the performance and the Golden Buzzer pick. What did you think about the performance? Do you think it deserved a Golden Buzzer?
https://www.instagram.com/p/Bl63QNqnDLW/?taken-by=agt
America's Got Talent continues to be in the Judge Cuts round on Tuesdays at 8 p.m. EST on NBC. Who do you think will be the next guest judge? The show then moves on to the live shows. There will be 36 acts in the live shows. This includes nine Golden Buzzer picks, 24 from the judge cut rounds and three wild cards are chosen by producers of the show.
https://www.instagram.com/p/Bl6tpVInCcB/?taken-by=agt
The winner of America's Got Talent will win $1 million dollars and a show at Planet Hollywood Resort & Casino in Las Vegas. Who do you think will win it all? Which acts are you rooting for?
https://www.instagram.com/p/Bl6qm4vHw6M/?taken-by=agt
You can see their performance in the video below and be the judge on whether they deserved that Golden Buzzer or not.
If you enjoy reading about America's Got Talent, please SHARE with all of your friends who watch the show and talk about!