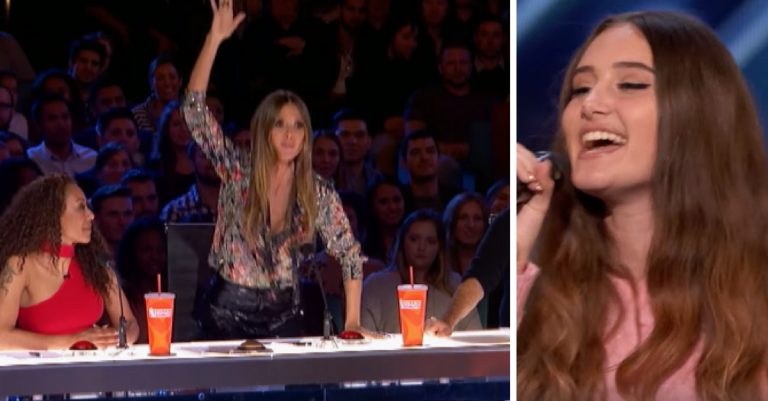 America's Got Talent (AGT) is back for season 13 and the audition part of the show is almost over. With 4 of the 5 Golden Buzzer's used, fans were anxious to see who judge Heidi Klum would pick for her Golden Buzzer choice.
The judges each get a Golden Buzzer pick. This allows the contestant to go right to the live show, bypassing a lot of the competition. Mel B chose 15-year-old singer Amanda Mena, Howie Mandel chose 13-year-old singer Courtney Hadwin, Simon Cowell chose singer and father of six Michael Ketterer and Tyra Banks chose aerial dance group Zurcaroh.
Find out why @MakaylaPhillips chose to sing "Warrior" by @ddlovato. #AGT pic.twitter.com/XJhk4NQB95

— America's Got Talent (@AGT) July 12, 2018
Fans were curious who Heidi Klum would choose with so many talented acts this year. However, many fans were irritated when Heidi chose another young singer. With so many singing competitions out there, America's Got Talent is one that allows acts of all types, so it is easy to see where fans are coming from.
https://www.facebook.com/agt/videos/10156091967569760/
Heidi chose 15-year-old singer Makayla Phillips. She sang Demi Lovato's "Warrior" and brought all of the judges and the crowd to their feet. It is no debate that Makayla is very talented, but do you think some of the Golden Buzzers should have gone to other acts for a more diverse competition?
Fans watching the show quickly went to social media to express their feelings. Here are some of the tweets from fans after watching the last Golden Buzzer pick go to another singer:
Oh look. Another #GoldenBuzzer, another singer. 🙄🙄🙄 there is so much talent on this show that ISN'T singing. Why isn't that being rewarded? Someone give a comedian the GB. #AGT

— Liz L. 📚 (@lizzybeth_rose) July 11, 2018
Does anyone else get annoyed that @AGT always ends with a singer and that almost all the #GoldenBuzzer winners are singers?

— Matthew Fink (@matthew_phynque) July 11, 2018
https://twitter.com/jhf621/status/1016865020804726785?ref_src=twsrc%5Etfw%7Ctwcamp%5Etweetembed%7Ctwterm%5E1016865020804726785&ref_url=https%3A%2F%2Fwww.countryliving.com%2Flife%2Fentertainment%2Fa22116244%2Famericas-got-talent-golden-buzzer-singer-makayla-phillips-fans-react%2F
What do you think? Are you happy with the judges Golden Buzzer picks or do you think there should be more variety?
There's more in the air than just confetti. ✨

Here's to the moments we live for. pic.twitter.com/HvifVQP087

— America's Got Talent (@AGT) July 12, 2018
America's Got Talent will continue to air on Tuesday nights on NBC. Which act has been your favorite so far? From magicians to dancers to singers and comedians, this year certainly has shown a lot of talent so far!
If you love America's Got Talent, please SHARE with your friends!