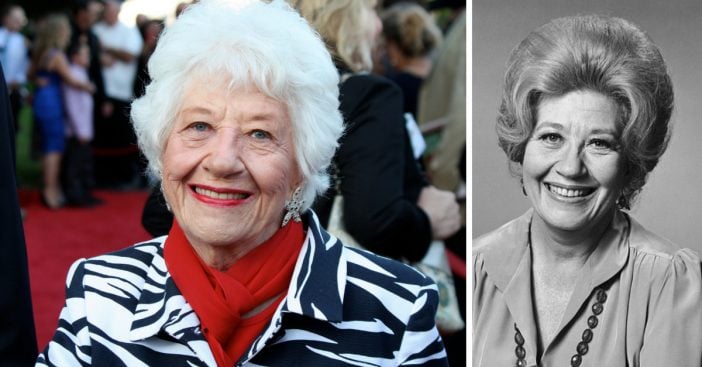 Charlotte Rae, best known for her role as Mrs. Garrett on The Facts of Life and Diff'rent Strokes, died on Sunday, August 5, 2018. She was 92 years old and had been battling bone cancer. Charlotte revealed that she had been diagnosed with cancer last April.
She also revealed that she was diagnosed with pancreatic cancer seven years ago. After six months of chemotherapy, she was cancer free and no one knew about it. She called it a miracle because her mother, sister, and uncle had all died from pancreatic cancer.
Unfortunately, her cancer came back. This time it was bone cancer and she was 91 years old at her time of diagnosis. She made a statement at the time that said she felt great and had to decide if she even wanted to do a treatment.
She was born Charlotte Rae Lubotsky in Wisconsin on April 22, 1926. She started off doing theater and radio. She started acting on television, but when she was cast in Diff'rent Strokes is when her career really took off.
She played the housekeeper Edna Garrett. Her character had bright orange hair and was kind of wacky, but very sweet. She quickly became a household favorite. Charlotte herself proposed the spin-off which eventually became The Facts of Life. She left the show in 1986 for health reasons and Cloris Leachman stepped in as her television sister.
She didn't stop acting there. She appeared as a guest star on shows like ER, Sisters, Pretty Little Liars, and The King of Queens. She also appears in several movies like Don't Mess with the Zohan and Tom and Jerry: The Movie.
https://www.instagram.com/p/BmH3YmPApi7/?tagged=charlotterae
She remained a beloved character and actually won a Pop Icon award in 2011 at the TV Land Awards for her work on The Facts of Life.
https://www.instagram.com/p/po_XhHvjYC/
Charlotte released a memoir in 2015. In the book, she shared many of her interesting experiences including 44 years of sobriety and discovering that her husband, John Strauss, was bisexual. Charlotte and John married in 1951 but divorced in 1976 when he came out as bisexual. The couple has two sons, Larry and Andrew. John died in 2011.
Please SHARE to honor Charlotte Rae's memory! Share with any friends who loved her as Mrs. Garrett!