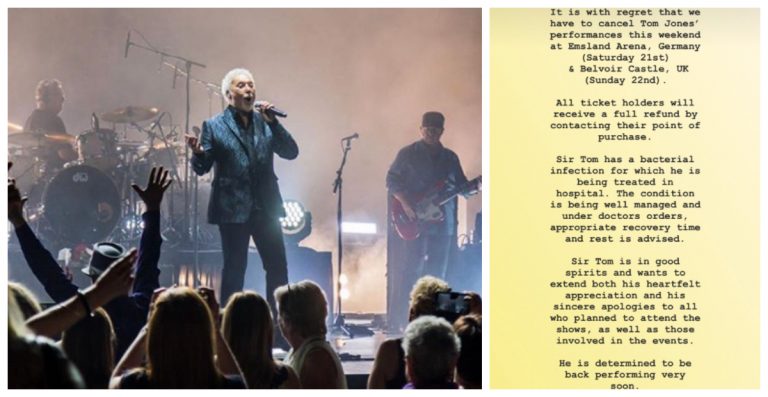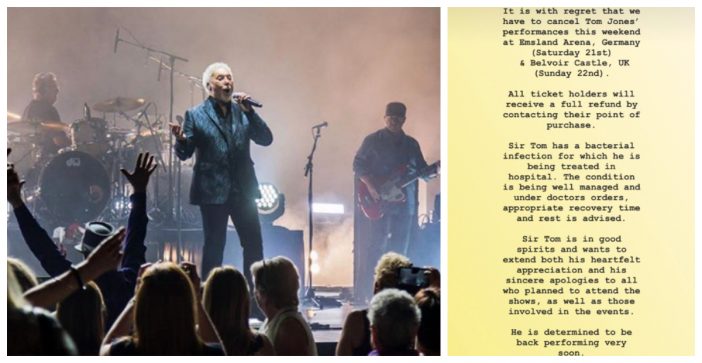 Tom Jones, 78, recently postponed his second gig in a row before the performance was due. He was rushed to the hospital to get treatment on a bacterial infection. Jones was still well enough to inform his fans on social media of what was going on. He said that he is "sorry and disappointed," but is hopeful for a speedy recovery.
The show that he canceled will be postponed to Sunday, August 12th. The first show that he had to postpone was supposed to be on July 18th, but he was reported feeling unwell at the time. Medical professionals advised Jones to not perform both nights.
Important update on this weekend's shows. pic.twitter.com/vFcZEnr1pT

— Tom Jones (@RealSirTomJones) July 20, 2018
"Sir Tom is in good spirits and wants to extend both his heartfelt appreciation and his sincere apologies to all who planned to attend the shows, as well as those involved in the events," the announcement read, "He is determined to be back performing very soon."
Fans have been told that they may receive full refunds for their tickets.
A note from Sir Tom… pic.twitter.com/EjuWYOyU2Q

— Tom Jones (@RealSirTomJones) July 19, 2018
The singer had a string of UK dates following the shows he was supposed to perform. Similarly to last September, Jones canceled an entire U.S. tour due to having a hip replacement. Doctors had advised the performer to rest and cancel the string of Stateside shows.
Important @ChesterRaces show information from @lizhobbs_group pic.twitter.com/sYeWlPeqhS

— Tom Jones (@RealSirTomJones) July 19, 2018
However, shortly after those couple shows were canceled, he later announced that all remaining dates of the U.S. tour last year would be rescheduled to sometime in 2018. The announcement read, "Following medical advice, Sir Tom Jones has announced that he will, unfortunately, be postponing his US tour, which was due to commence in Bethlehem, PA on Wednesday 6th September."
View this post on Instagram
The details on Jones' bacterial infection have not been announced, but Jones and his team are hopeful that he will recover quickly. He is apparently being monitored by a team of professionals and it is being well-managed. Both the team and the fans hope to see Jones back onstage soon and feeling 100% again!
News on the tour dates that have been rescheduled can be found at his official website. Additionally, inquiring fans may follow Jones' social media pages for more updates to follow.
View this post on Instagram
Be sure to SHARE this article in hopes for a speedy recovery for Tom Jones!