Open up the door to your favorite restaurant and breathe in the aromatic texture this place provides. Immerse yourself into the thrill of simply being there, because if there is something we can all agree on, going to a good restaurant is more than just eating good food – it's the entire experience that keeps us returning time after time and the waitress can play a huge role in your experience. It could be a place you've been going to forever, or a new spot you've been looking to try out. Whatever the case, eating out can be a real treat.
We all know this to be true – think about what happens on a weekend after a long week of hard work. You call up your best friend and discuss plans for the night, and more often than not those plans will include going out to eat first. Or perhaps you have a big family and want to enjoy a lovely evening out and about with them. Such was the case for Whitney Anderson, a young woman with a husband and three kids, who only had one desire when a beautiful evening came around – to go out with her family and enjoy a nice meal. But she didn't know what she was about to get herself into.
One evening, Whitney Anderson decided to have a nice dinner with her husband and three children. They decided to have that dinner at Abuelo's Mexican Restaurant. By the way, here's an article on some restaurants that will certainly bring back some memories!
And everything seemed just fine until that woman checked her bank statement. In it, it said that she spent $10 more than what she agreed to in the restaurant. Somebody took extra $10 from her bank account!

And the thing is that the night before, she had paid a really nice price for the entire meal ($45.50) and she tipped $10 over that. That's $55.50 in total. However, her bank history told her that she had paid $65.50 instead! The 25% tip was not enough for someone!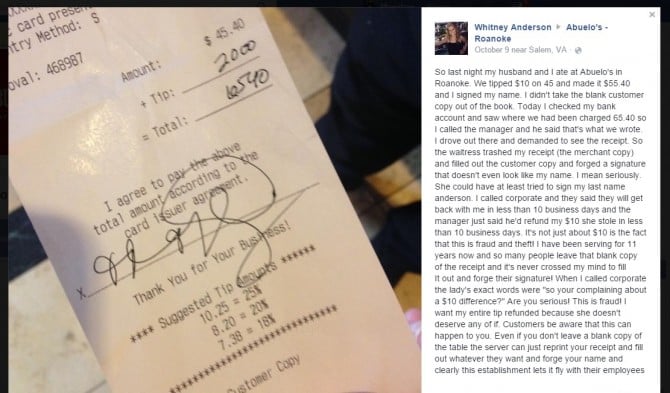 Of course, the woman rushed back to the restaurant to make everything clear and to address the problem. However, the manager of the restaurant didn't want to help. He wasn't bothered by that problem, and he refused to resolve that issue with the waitress who served the family. He told her that the restaurant needs 10 business days to have that tip returned.