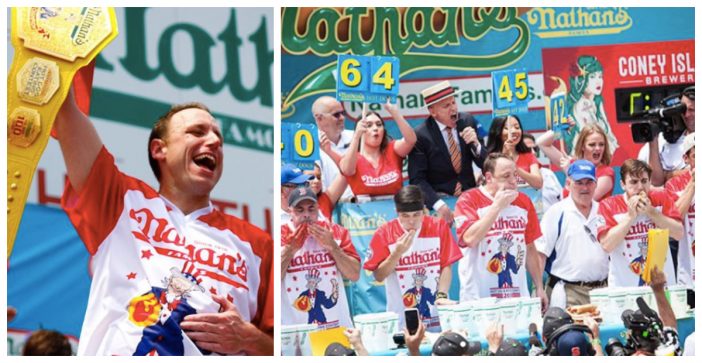 Back on July 4th, the annual hot dog eating contest starring world-record hotdog eater Joey Chestnut aired on televisions everywhere. The contest took place in Coney Island, NY as it does every year, and it's no secret that Chestnut came to win. The interesting part about this year's competitive eating contest is that Chestnut claims it was not counted correctly.
Chestnut caught up with TODAY to talk about the controversy and how he feels after the binge. According to Chestnut, he normally eats very light, healthy foods and runs up to 10 miles per day. He apparently did a complete detox leading up to the competition.
https://www.instagram.com/p/Bk0xFYihPH8/?taken-by=joey.chestnut
Chestnut took home the gold for the 11th time, breaking his own world record with 74 dogs and buns consumed in 10 minutes. Originally, counters miscalculated the actual amount eaten and came out with 64, which Chestnut claimed to be wrong. Chestnut says that the day after consuming 74 hot dogs, he doesn't feel great. He compared it to that of a marathon runner, saying, "You feel like garbage after a marathon."
https://www.instagram.com/p/Bk1A7FkgyWp/
Miki Sudo is Chestnut's female counterpart, who won the hot dog eating contest by consuming 34 hotdogs in the same timeframe that Chestnut did. She and Chestnut both say that technique is everything. Some competitive eaters will split the hotdog in half and dip the bun in water, then consume at the same time. Sudo said herself that she eats two dogs, followed by the two buns, then "rinse and repeat."
https://www.instagram.com/p/Bk0g0VUg2HO/?tagged=mikisudo
Chestnut packed away over 21,000 calories in 10 minutes. He says that he feels amazing that he won world record again, but was not feeling his best the day after. Chestnut posted on his official Instagram account 3 days ago that he was just starting to feel hungry again, and posted a photo of a juicy burger. The photo accompanied a caption saying, "Finally hungry again and really want to try this burger using my line of Joey Chestnut Mustard and Coney sauce."
https://www.instagram.com/p/Bjf5vUahHw7/?taken-by=joey.chestnut
In addition to holding the world record for hotdogs, he holds many other world records in competitive eating, such as mini donuts.
Nothing stops Joey Chestnut! Be sure to SHARE this article if you love watching Joey Chestnut.