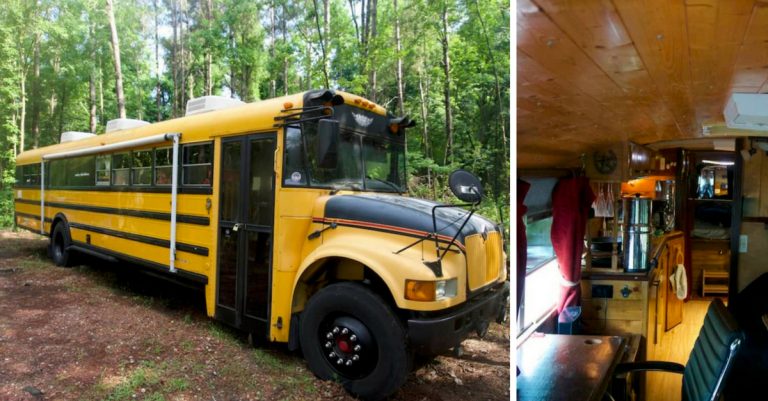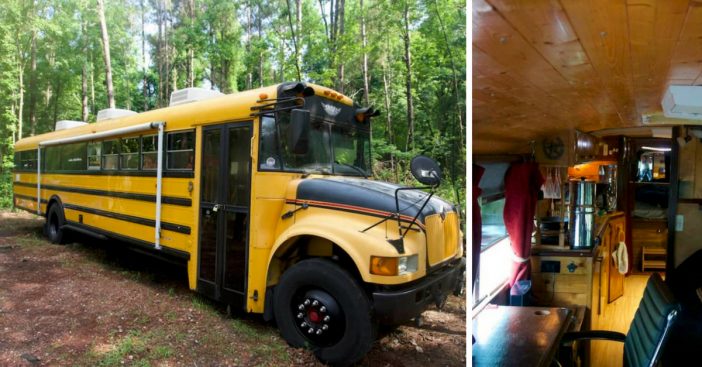 You can make yourself a tiny home from just about any vessel these days. Someone in North Carolina did just that. They took an old school bus and turned it into an adorable tiny cabin. This home may make you want to travel in the woods ASAP.
The 320 sq. foot bus boasts two bedrooms, a kitchen and even a bathroom, all in this driveable tiny home. They are selling it for $29,500. It still looks like a school bus on the outside, but you won't believe what it looks like on the inside.
You can even watch cable TV in this tiny home! There are actually two TVs. You can even open up the emergency hatches to relax, get some fresh air, and watch the stars at night. This looks like the perfect tiny home for someone who likes to travel and wants to feel like they are in a cabin.
It also has an outdoor shower. The regular bathroom is one room with a toilet and shower, so it might be nice to shower outdoors if the weather is right!
How adorable is the cabin feel? It looks like it has everything you would need for comfortable tiny home living. The best part is you can move it whenever you want.
The master bedroom even fits a king size bed. Can you believe a big bed fits in this tiny home? There is also plenty of room for guests, so even a family could live on this school bus turned tiny home.
Would you ever live in a school bus turned tiny home? Would you want to travel around or would you just park it in one place as your full-time home?
If you thought this article was interesting, please SHARE it with a friend who loves reading about fun tiny homes!