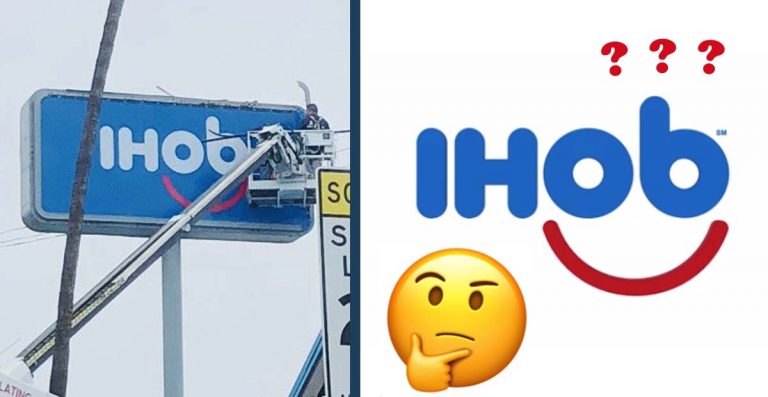 A mystery that has taken the Internet by storm has finally been revealed. A few weeks ago, IHOP announced they were flipping the "P" in their name to a "b" — officially becoming IHOb.
Many thought the "B" meant breakfast, but boy were they wrong. International House of Pancakes is now International House of Burgers. (And no, this isn't a joke.)
Gotta be honest: Thought the B was for sure gonna stand for "Breakfast." #IHOb

— Colin Moriarty (@notaxation) June 11, 2018
The change is not permanent, but rather a marketing strategy to promote its new line of burgers. IHOP is known for their pancakes, but they are aiming to be known for their burgers as well. They are releasing seven Ultimate Steakburgers. They aim to attract a wider audience and want to have people stop in more often for lunch and dinner, as well as breakfast.
Dear Internet, we abbreciate your batience. Now let's see who guessed right. B-hold!!!!! #IHOb pic.twitter.com/Fh3SkZ7s3Y

— IHOP (@IHOP) June 11, 2018
In their attempt to jump headfirst into the lunch and dinner business, they decided to choose burgers because they are the most popular entree for people of all ages in America. IHOP executives said it made sense to start with burgers.
The company changed its social media handles to the new name with a "B" and updated the sign of a Sunset Boulevard IHOP to "IHOb."
https://twitter.com/blake_buell/status/1004736588776071168
Some people are skeptical about how this rebranding effort will actually pay off, but IHOP remains positive that it will work.
According to their website, the new burgers will be Ultimate Steakburgers, all natural 100% USDA choice Black Angus Beef. The price starts at $6.99. The types of burgers are called Jalapeno Kick, Cowboy BBQ, The Classic with Bacon, Mega Monster, Mushroom & Swiss, Big Brunch and The Classic. They will also offer combos with drinks and unlimited french fries.
Which burger sounds the most mouthwatering to you? They also offer sandwiches and salads to appeal to others during lunch and dinner.
Although the change is primarily for marketing purposes, some people have expressed their disapproval with the new name.
Even celebrity Chrissy Teigen got in on the jokes, making fun of IHOP for "going all in on one food item."
All in is all we know. Come try one if you want a new legend in your life.

— IHOP (@IHOP) June 11, 2018
What do you think about IHOP's move to IHOB? Will you try any of their new burgers? If you liked this article, please send along to a friend!