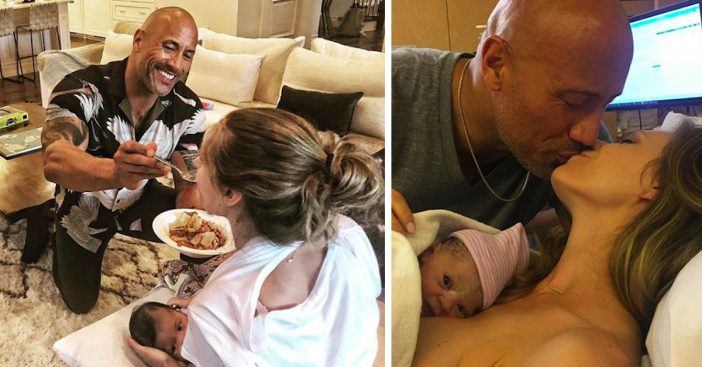 The self-proclaimed "Hardest Working Man in Hollywood" is also the most attentive partner and father. Dwayne "The Rock" Johnson has proved once again what a great guy he is.
Even though he has a very busy schedule, he always is with his family, whether he is flying home to be with them, or they're flying around on a private plane with him.
https://www.instagram.com/p/Bj1l6C4lwGm/?hl=en&taken-by=therock
2018 has a been a busy year for The Rock. He had his movie Rampage come out in April, he's been promoting his latest film Skyscraper, and he produces and stars on HBO's hit comedy series, Ballers. Not only that, he just welcomed his third child!
https://www.instagram.com/p/BiuxF3Ml1Fx/?hl=en&taken-by=therock
On April 17, 2018, The Rock and his partner Lauren Hashian welcomed their second daughter together, which made baby girl #3 for the proud dad. The Rock has a 16-year-old daughter, Simone, with his ex-wife Dany Garcia. With Lauren, The Rock welcomed his daughter Jasmine in 2015. Now, Simone and Jasmine are both big sisters to Tiana Gia.
https://www.instagram.com/p/Bh7Amsfl_pd/?hl=en&taken-by=therock
The Rock is no stranger to sharing personal moments of him with his family on social media. He is an extremely proud dad of his eldest daughter and he seems to love entertaining his toddler, Jasmine, by dressing up as her favorite Pokémon. And he isn't just a good dad, he's also a great partner.
https://www.instagram.com/p/Bj3JIWCF7Wk/?hl=en&taken-by=therock
He took to Instagram to share a moment behind-the-scenes of him and Lauren. While Lauren breastfed their 8-week-old daughter, The Rock fed Lauren! He captioned the photo:
I'll handle this business. Mama @laurenhashianofficial has her hands full nursing/feeding Baby Tia, so I'm feedin' mama her dinner. My pleasure. So much respect to her and all mamas out there holding it down and running things. Just landed and good to get all my girl's settled in. Now, I gotta go satisfy my own appetite.. Iron Paradise, here I come.
https://www.instagram.com/p/BiFVYGIlJ-E/?hl=en&taken-by=laurenhashianofficial
How sweet is that? The Rock seems like such a standup guy. Those four ladies are all lucky to have him!
If you liked this article, please SHARE it on Facebook with your friends and family!