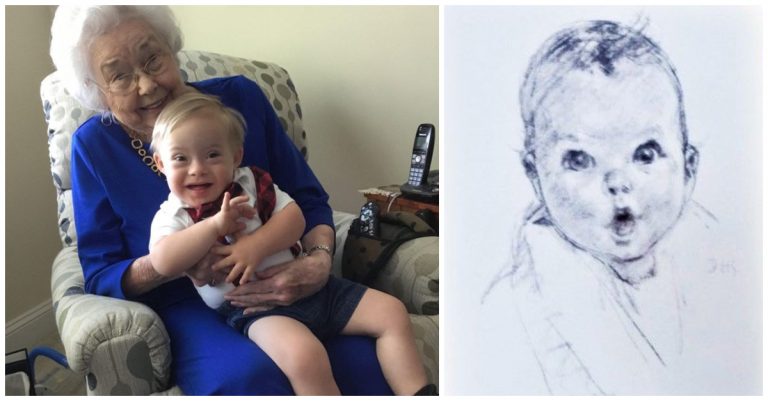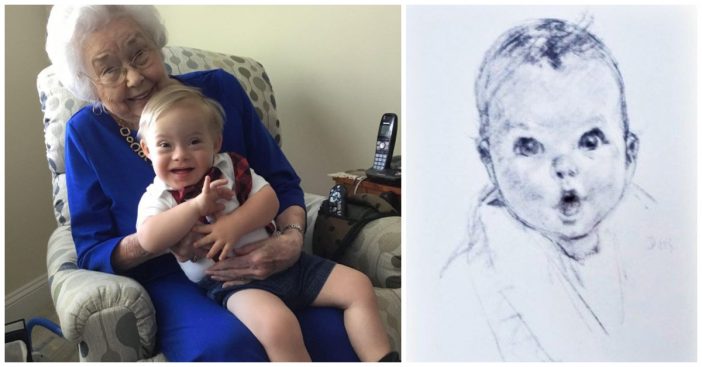 The original Gerber baby, Ann Turner Cook, just met the newest Gerber baby. They're 90 years apart in age, and the photos are absolutely adorable.
One-year-old Lucas Warren was recently chosen as the new Gerber baby, making history by being the first Gerber baby with Down Syndrome. He is seriously the cutest thing ever!
My grandmother was the Gerber baby. It was a funny bit of trivia, never made her rich or got us free strained peas or anything. But last week she got to meet the company's newest spokesbaby, named Lucas. Pretty pretttty cute. pic.twitter.com/u7ddWaM1Ed

— Chris Colin (@chriscolin3000) June 4, 2018
The company helped arrange the meeting between the oldest and newest Gerber babies and their families. Cook's iconic black-and-white photo was chosen in 1928 and has since then been the company's trademark image. We all know that face!
Receipts! pic.twitter.com/UBzFaBSxPK

— Chris Colin (@chriscolin3000) June 4, 2018
It was in 2010 when the company decided to open submission to find it's next Gerber baby. Lucas was chosen among the 140,000 entries who submitted! It's no surprise that with his infectious smile he would be chosen as the next Gerber baby, carrying on the tradition that was set in place by Cook.
According to ABC News, the initial meeting was everything they could've asked for. "Lucas walked right up to her, flashing his signature smile and waving, and we could tell he loved her right away," the Warrens told ABC.
In addition to the bond between the former and newer Gerber babies, the Warrens claimed that Cook is a lovely woman and a pleasure to be around. They are extremely grateful that she took time out of her day to spend it with them.
https://www.instagram.com/p/Be5teTtgE6M/?tagged=lucaswarren
Recently, Lucas's mother spoke with TODAY about Lucas shortly after he was chosen as the newest baby. She hopes he will not be seen as a baby with Down Syndrome. She hopes people will see him as a child who really just loves to have fun.
"He's got an awesome personality and he goes through the milestones of every child… we're hoping when he grows up and looks back on this, he'll be proud of himself and not ashamed of his disability," his mom, Cortney, says.
https://www.instagram.com/p/BgjOQ0yBolN/?tagged=lucaswarren
What do you think of the adorable Gerber baby meeting? Be sure to share this with your friends if you loved it as much as we do!