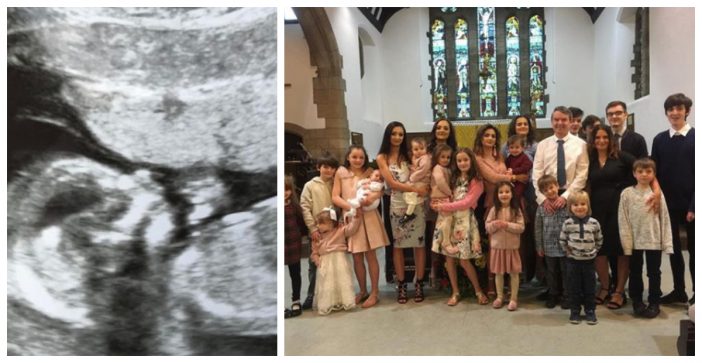 In America, we had John and Kate Plus 8 and 19 Kids and Counting. But they really seem to go all out in Britain! The Radford family in Britain is preparing to welcome their 21st child into the family. Yes, you read that right.
On a recent talk show, Sue and Noel talked about their love for their unusually big family and being able to bounce back from pregnancies so quickly. They starred on the UK show 15 Kids and Counting back when they only had 15 children.
https://www.instagram.com/p/BcFVQqUDBXJ/?taken-by=theradfordfamily
On the UK talk show "This Morning," the Radfords stated that after baby Archie (their 20th child), there would be no more babies. Mama Sue claimed that she no longer enjoys being pregnant, but that her body seems to thrive off of pregnancy.
https://www.instagram.com/p/Bg3S-zQDxi2/?taken-by=theradfordfamily
The family, especially the older children, stated that they wouldn't be shocked at all by a 21st pregnancy. One of the older children, Sophie, says that she loves being the big sister and it's good fun! She did say that there are obviously some fights and bumps in the road, but you're never lonely.
Fast forward some time later, and the older children's assumption has come true! On May 28th, 2018, the Radfords announced that they would soon be welcoming a 21st baby.
https://www.instagram.com/p/BeslUVQjzmy/?taken-by=theradfordfamily
With the recent announcement of baby #21, the family is surely excited to bring another brother or sister into the picture. Despite the larger than life family and occasional disagreements, the Radfords remain excited and happy for their family to grow even more!
https://www.instagram.com/p/BjWzc3GjriZ/?utm_source=ig_embed
Instagram followers speculated that Sue may be pregnant again after she posted a photo with two of her kids, her tummy looking unusually big! Only a couple weeks later, she posted a photo of the ultrasound and referenced the gender reveal video she posted.
https://www.instagram.com/p/Bi2HN8uFoRT/?taken-by=theradfordfamily
Most people would think that having 21 kids would be totally overwhelming, but for Sue and Noel it's just normal!
https://www.instagram.com/p/Bdnn4b3jcw9/?taken-by=theradfordfamily
Watch the gender reveal video below, and don't forget to share this article with your friends!