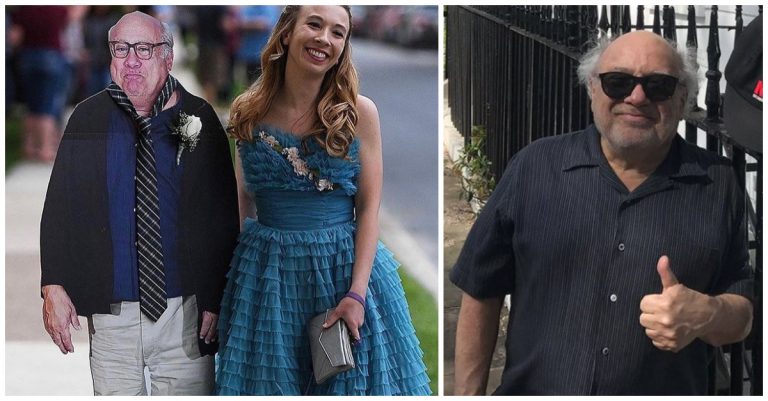 Danny DeVito, we love your work! And so does Allison Closs, who brought a cardboard cutout of the iconic actor to prom with her.
The cutout was done up entirely with a tie and boutonniere.  It was wheeled around on one of those plastic scooters and they posed for couples photos. There is nothing funnier than this hysterical prom photo!
https://www.instagram.com/p/BjnwE0phF4y/?utm_source=ig_embed
We've got to admit, they're both dressed to the nines! What's even better about this story is that it went viral, and Danny DeVito himself saw the photo and reacted as one normally would.
Danny Devito made a cardboard cutout of Allison and took her to set. He made sure Allison would see his response. The caption read, "Hey Allison- I heard you took cardboard Danny to Prom. What a coincidence. I took cardboard Allison to Paddy's…"
Thank you SO, SO MUCH @RMcElhenney and @DannyDeVito for fulfilling my dream of visiting Paddy's Pub from @alwayssunny !! 🤩 pic.twitter.com/EJiLZ3V4Qy

— Allison Closs 乁(ᴗ ͜ʖ ᴗ)ㄏ (@AllisonCloss) June 5, 2018
Allison was happy beyond belief that her photo was seen by Danny, and even more that he responded.
In a recent YouTube video, Allison stated that she was having trouble finding a date to prom. So, what better alternative than a cardboard cutout of your favorite celebrity? Allison might be onto something here…
https://www.instagram.com/p/Bis984DBn9G/?utm_source=ig_embed
Allison went on to say that Danny DeVito's work was there for her in her darkest moments, and for that she's grateful and indebted. She claims that he is a huge inspiration for her and is always there when need be. Now, he's in cutout form, too!
London with my DN hat. Jeremy June 8th. Show us how it's done! pic.twitter.com/dYM4XQXEEq

— Danny DeVito (@DannyDeVito) May 27, 2017
It's safe to say that cardboard cutouts might begin to replace actual prom dates. Who needs to stress of finding a date when you can take a cutout of your favorite celebrity?
https://www.instagram.com/p/BhCnnvlnx7x/?taken-by=alicloss1
Did you find this story absolutely hilarious? Make sure to share it with your friends and family if you did!