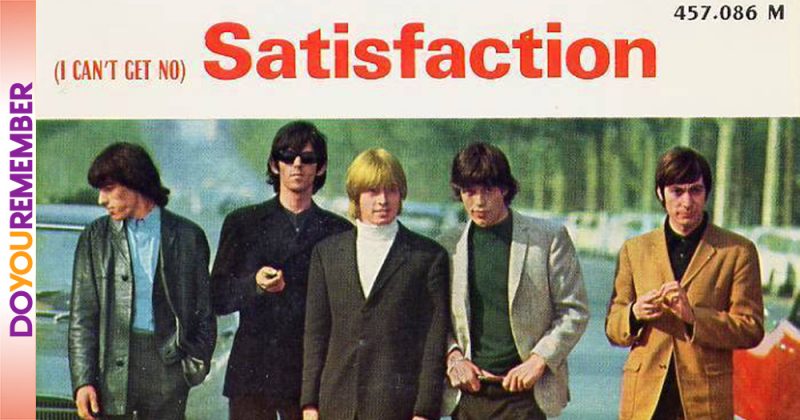 The 1960's and 1970's were fantastic decades for music. The Rolling Stones are certainly part of this musical revolution as they soured to popularity in England and everywhere around the world. "(I Can't Get No) Satisfaction" was written by Keith Richards and Mick Jagger.
The iconic song was released in 1965 and went on to become The Rolling Stones' first number one hit in the United States. One interesting note, the opening guitar riff was intended to be replaced by horns, but the guitar ultimately helps propel the song. Below is a video of them performing "Satisfaction" on The Ed Sullivan Show.
(Source)
Back home in the United Kingdom, the band struggled to get the song its owed listening audience. The song was only played on pirate radio stations because its lyrics were deemed too overtly sexual and aggressive.
It would later go on to become The Rolling Stones' fourth number one hit in the UK. In 2004, Rolling Stone Magazine awarded "(Can't Get No) Satisfaction" the number two spot overall on their list of the "Greatest 500 Songs of All-Time". What an honor and a deserved one, as this song flatout rocks. Below are the lyrics.
The Rolling Stones – Satisfaction Lyrics
I can't get no satisfaction
I can't get no satisfaction
'Cause I try and I try and I try and I try
I can't get no, I can't get no
When I'm drivin' in my car
And that man comes on the radio
He's tellin' me more and more
About some useless information
Supposed to fire my imagination
I can't get no, oh no, no, no
Hey hey hey, that's what I say
I can't get no satisfaction
I can't get no satisfaction
'Cause I try and I try and I try and I try
I can't get no, I can't get no
When I'm watchin' my T.V.
And that man comes on to tell me
How white my shirts can be
But he can't be a man 'cause he doesn't smoke
The same cigarrettes as me
I can't get no, oh no, no, no
Hey hey hey, that's what I say
I can't get no satisfaction
I can't get no girl with action
'Cause I try and I try and I try and I try
I can't get no, I can't get no
When I'm ridin' round the world
And I'm doin' this and I'm signing that
And I'm tryin' to make some girl
Who tells me baby better come back later next week
'Cause you see I'm on a losing streak
I can't get no, oh no, no, no
Hey hey hey, that's what I say
I can't get no, I can't get no
I can't get no satisfaction
No satisfaction, no satisfaction, no satisfaction