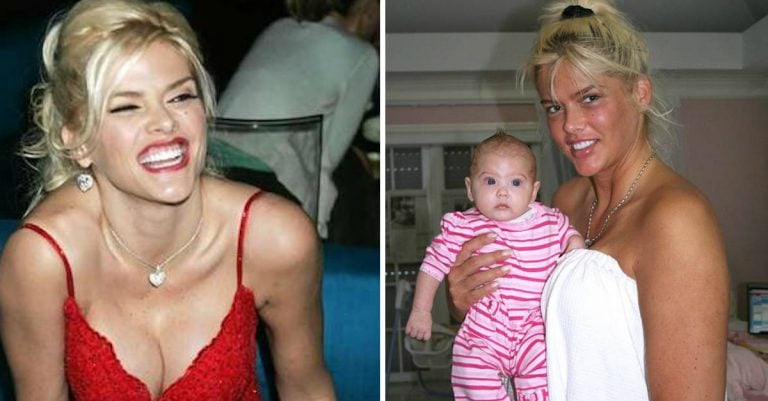 UPDATED 6/3/2021
It has been 14 years since Anna Nicole Smith passed away on February 8, 2007, when her daughter was only five months old. Even though Dannielynn didn't get much time with her mother, she could pass for her mini-me.
Anna Nicole Smith's name is near-infamous these days, but before she rose to fame, she was Vickie Lynn Hogan. Then she was Nikki Hart! By the time she appeared in Playboy in 1992, she went by Vickie Smith. She later changed her name to the one we all know and love and it was around that time that Guess photographers realized she bore a striking resemblance to '50s blonde bombshell, Jayne Mansfield.
Anna Nicole Smith's children
View this post on Instagram
Aside from her successful modeling career, Anna Nicole was known for some public scandals. In 1991, she met billionaire J. Howard Marshall and began a 2-year affair with him, before they finally got married in 1993, when J. Howard was 89 years old.
View this post on Instagram
RELATED: Dannielynn Birkhead Discovers Mom Anna Nicole Smith's Cherished Possessions From Years Past
During her lifetime, Smith had two children: Daniel Wayne Smith and Dannielynn Birkhead (born Dannielynn Stern). Sadly, three days after Dannielynn's birth in 2006, her older half-brother passed away at just 20 years old.
View this post on Instagram
From then until Anna Nicole's death, the blonde bombshell was in the media, either over the death of her son, or the paternity case of her daughter, Dannielynn.
View this post on Instagram
Dannielynn's paternity was a widely publicized case. After months, Larry Birkhead was granted a DNA test and proved to be Dannielynn's father. And he could not possibly be a more doting dad!
Celebrating the @kentuckyderby with Dannielynn. Thanks @itsnickgraham for my cool suit! Dannielynn's awesome southern belle dress by Lesy boutique. Rain won't spoil our awesome Derby day! 🐎 #halfwaycooldad pic.twitter.com/PaIvwNoYnM

— Larry Birkhead (@larrybirkhead) May 5, 2018
In the year after Smith's death, Larry and Dannielynn were closely monitored by the media to see how the little girl was adjusting after everything. Can you believe Dannielynn turns 14 this year?
Larry Birkhead and Dannielynn have attended the Kentucky Derby together over the years, as Larry is a Kentucky-native. This year the father-duo daughter were once again in attendance, and it is amazing to see what Dannielynn looks like now! She is a perfect blend of both of her parents.
Headed to the Barnstable-Brown Gala with Dannielynn in her Junona ( @junonafashion ) dress,
ready to crash the dessert room #gobigorgohome #KentuckyDerby #Barnstable-Brown #prouddad #freshbraces Thanks to @theDrybar for her poppin' curls, I had to draw the line somewhere 😂 pic.twitter.com/0urnVx9YFP

— Larry Birkhead (@larrybirkhead) May 5, 2018
Catching up with Dannielynn
Dannielynn Birkhead, 12, Honors Late Mom Anna Nicole Smith By Wearing Her Hat To Kentucky Derby https://t.co/52pvoXL1rf pic.twitter.com/F1kVDkTWC9

— peter alexander (@carribablue) May 4, 2019
She's taken after her parents in other ways. When she was just six years old, Dannielynn became a model with the company Guess Kids, the childrens' branch off of Guess clothing. Co-founder Paul Marciano would note of the experience that "Dannielynn has the same playful spirit that her mother had on a set."
New @KentuckyDerby Derby Weekend Instagram Post
👇https://t.co/yu2vFbiBXF pic.twitter.com/cXInHoafTl

— Larry Birkhead (@larrybirkhead) May 1, 2021
A judge turned down her reception of $44 million from the estate of the late E. Pierce Marshall, and while her father hoped the ruling would go in another direction, Dannielynn has found her own footing without it. It seems she has a knack for acting, as her father outlined, "I got an email from her teacher [that] said, 'Dannielynn gave one of the most believable performances of the whole entire school that was in the play.'" While he only offered, "If she wants to do something like that when she's older, I'll have my own opinion about it," Dannielynn just about has her mind made up, especially that it's "really cool" to "act as a character and not yourself." In her books, "It's like portraying a new person. It's fun."
Her father's already had to contend with his little girl growing up, reminiscing of their Kentucky Derby trip, "She said she wanted to wear something entirely different than she had in the past. I guess that means no more 'little girl' dresses??"
Surprised Dannielynn with @HamiltonMusical tickets for 7th grade graduation. I think she is happy! #Hamilton #hamiltonmusical #graduation #kycenterforthearts pic.twitter.com/Lj8rjNc9sN

— Larry Birkhead (@larrybirkhead) June 4, 2019
Still, he's had no problem providing for her, and the famous daughter got to spend her birthday in 2019 in style seeing the Broadway production Hamilton. That same summer, she graduated from the seventh grade. Congratulations! Her father admits things can be challenging, but adds, "I make it as normal as I can." That means typical teenager things like seeing movies and rushing to classes before the first bell rings. "She goes to school like every other kid," he went on, "she's a Girl Scout."
If you like this story, share it with your friends on Facebook today!