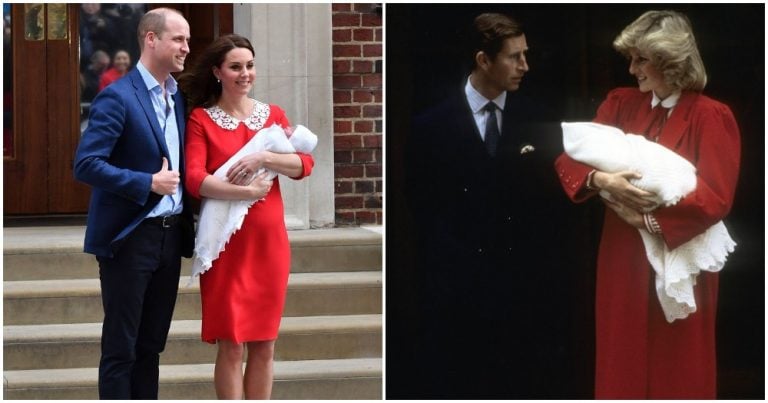 Just like her first two pregnancies, Kate Middleton looked like absolute perfection when exiting the Lindo Wing with Prince William and their third child. The proud mom wore a red shift with a white lace collar by Jenny Packham paired with nude Gianvito Rossi heels.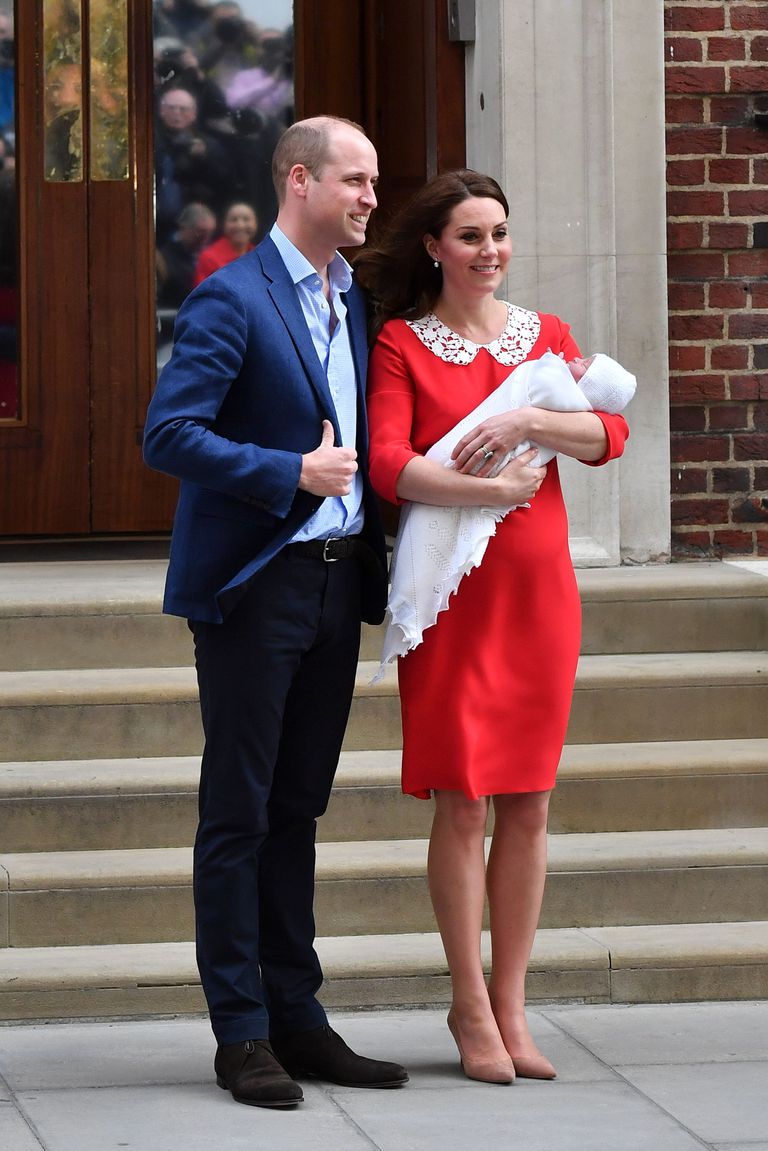 Her sartorial choice couldn't help but remind some well-wishers of her late mother-in-law, Diana, Princess of Wales, who stood in the same place decades before. For Prince Harry's birth in 1984, the late Princess wore a long red jacket over collared layer with a matching pair of low red heels.
Diana, Princess of Wales and Prince Charles, Prince of Wales leave the Lindo Wing of St. Mary's Hospital following the birth of Prince Harry on September 17, 1984.
Twitter definitely noticed the sweet tribute right away:
My heart. ❤️ As soon as I saw Kate in her red dress I thought of Diana. #RoyalBaby pic.twitter.com/E1GsfBID78

— Christine Wilson (@chriswilson_3) April 23, 2018
Kate's little homage to Diana in the outfit choice!!! Looove pic.twitter.com/zGJ7EC9PZl

— chloe (@ch10033) April 23, 2018
A tribute to Diana? Kate chose similar designs as Diana did when introducing the world to her first and second sons. pic.twitter.com/qItPufwghy

— Jenn Fine (@FineHistorian) April 23, 2018
After the arrival of many little princes and princesses over the years, the royal debut outside of the London hospital now feels like a true tradition, but it wasn't always that way. Anne, Princess Royal actually updated the former status quo of giving birth at a royal residence when she selected St Mary's for her children's births in 1977 and 1981. Diana followed suit in 1982 with Prince William and later 1984 with Prince Harry.
Both times she and Prince Charles exited the building and posed for photographers with their newborn sons. With Prince William, she wore a loose green polka-dot dress paired with red flats, waving to photographers as the new dad cradled the future king.
Prince Charles, Prince of Wales and Diana, Princess of Wales leave St Mary's Hospital with baby Prince William on June 22, 1982.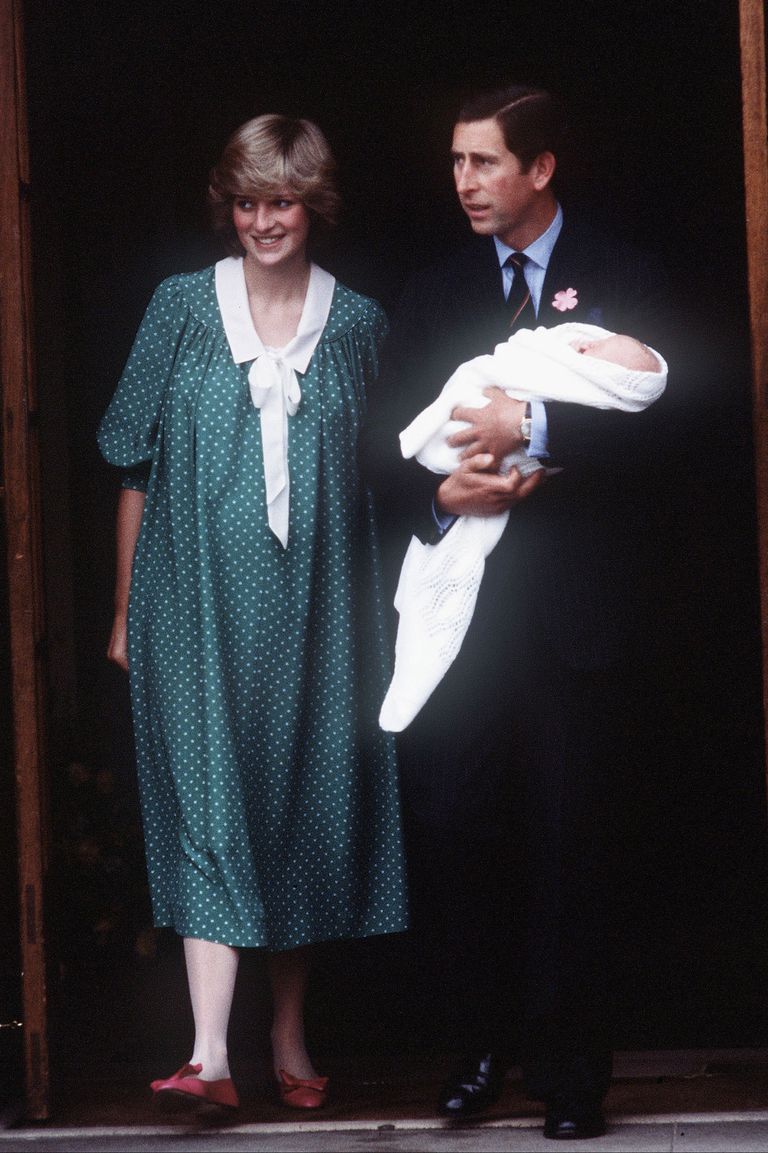 The memorable look undoubtedly inspired the Duchess of Cambridge more than 30 years later. In an apparent homage to her mother-in-law, Kate also wore a dotted dress on the day she became a mother for the first time in 2013.
Prince William, Duke of Cambridge and Catherine, Duchess of Cambridge exit the Lindo Wing with their newborn son Prince George on July 22, 2013.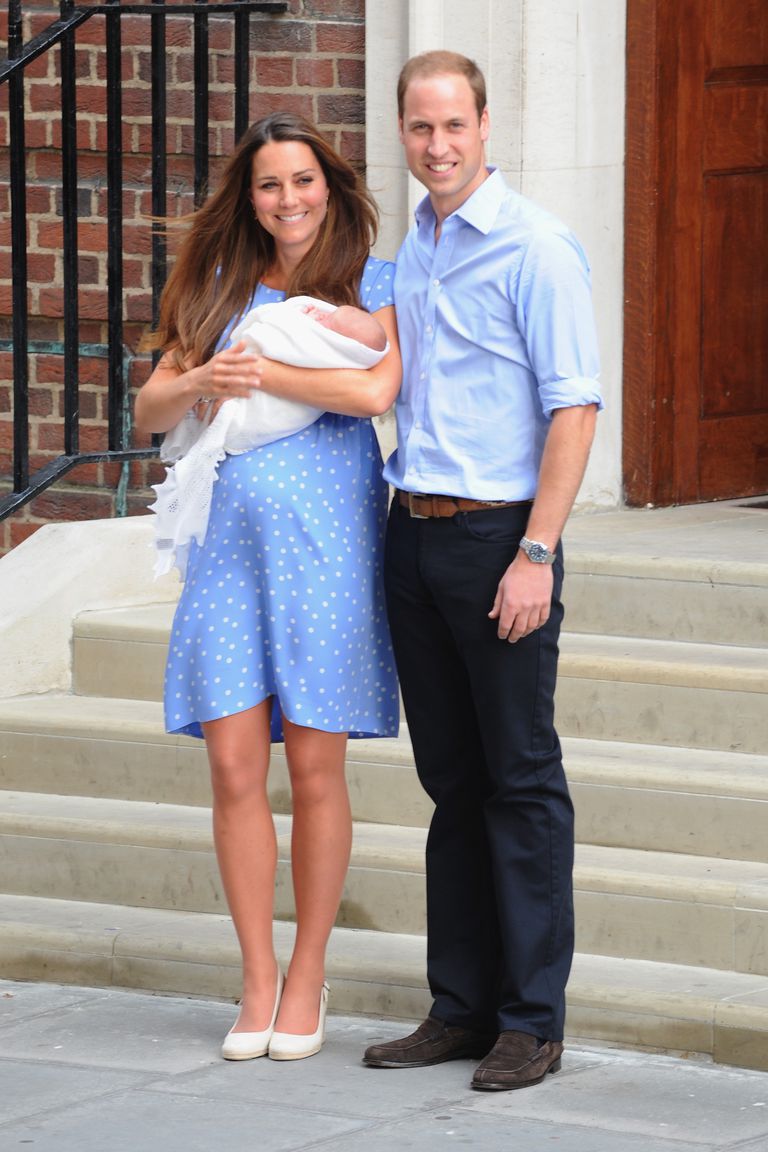 Although shorter and brighter, the print suggests she had Prince George's grandmother in mind when picking the Jenny Packham shift.
The Duchess called on the same designer yet again for Princess Charlotte's birth in 2015, this time wearing a bespoke dress with buttercup flowers.
Catherine, Duchess of Cambridge and Prince William, Duke of Cambridge depart the Lindo Wing with their newborn daughter Princess Charlotte at St Mary's Hospital on May 2, 2015.
The floral print suited the spring weather perfectly.
While times have undoubtedly changed, both of these women's styles have remained totally iconic. Congratulations to the royal family on their newest addition!
Credits: goodhousekeeping.com