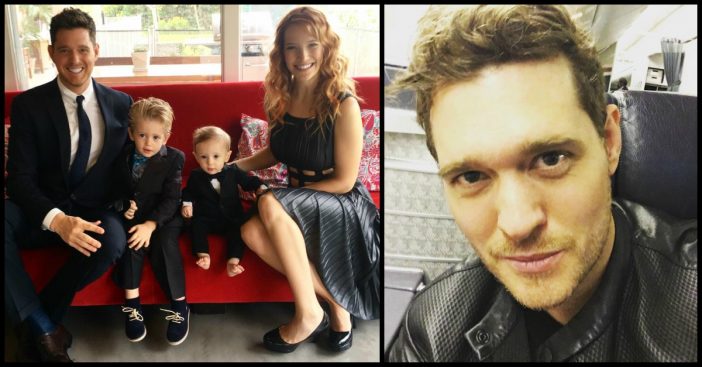 Michael Bublé is one of the most incredible singers out there. The 42-year-old Canadian is known for his singing, songwriting, acting, and record producing. He's one of the most prominent Christmas singers today, and his albums are loved worldwide. Michael is also the epitome of classy — he always carries himself gracefully and acts professionally when he's in public. Surprisingly, Michael began his career appearing on television shows like The X-Files and Death Game, as early as 1996. In the early 2000s, Michael's music career really took off, and he released his debut album in 2003.
https://www.instagram.com/p/BE9o_DEJS_H/?taken-by=michaelbuble
Throughout the rest of the 2000s, Michael became known for his jazz music, and his CDs sold very well. In 2009, his single "Haven't Met You Yet" took off. In 2011, his Christmas album rose to the top of the charts.
https://www.instagram.com/p/BCpHlTBJS5z/?taken-by=michaelbuble
During this same time period, while he was finding career success, Michael was also finding success in his love life.
https://www.instagram.com/p/BJRb_D2jiV_/?taken-by=luisanalopilato
In November 2009, he got engaged to Luisana Lopilato, an Argentine actress who appeared in his "Haven't Met You Yet" music video. The two got married in March 2011.
In August 2013, Michael and Luisana welcomed their first son, Noah, and in January 2016, they welcomed their second son, Elias.
https://www.instagram.com/p/BLoIek9jPFg/?taken-by=michaelbuble
Noah was diagnosed with cancer in November 2016, and Michael has been very open about the struggles his family has faced. Luckily, Noah is doing well now.
https://www.instagram.com/p/BJnSoWmjUrz/?taken-by=michaelbuble
Michael hosted the 2018 Juno Awards in Vancouver, Canada. During his opening monologue, he spoke about hosting the awards show in the past, and he let it slip that he and Luisana are expecting baby number three! He then turned to Luisana, who was sitting in the audience, to express his love for her.
Watch the video below to see how Michael announced the pregnancy.
Michael and Luisana haven't announced the baby's gender yet, but we'll be waiting to find out whether Noah and Elias are getting a little brother or sister.
https://www.instagram.com/p/BgySjxjhAIx/?taken-by=luisanalopilato
If you love Michael Bublé, make sure you share this article with your friends!