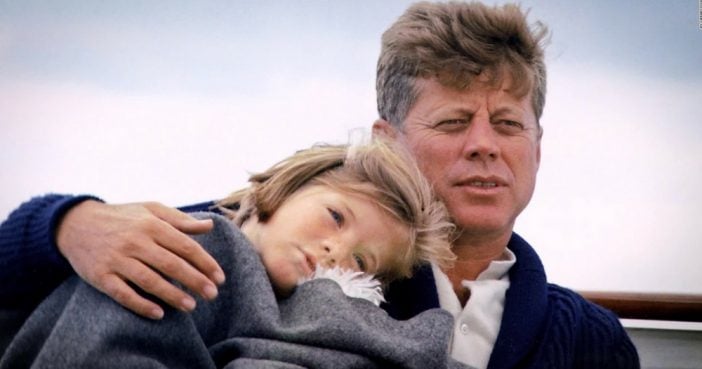 Many United States presidents have been fathers of daughters during their terms in the White House. Some of the presidents' daughters started out as ugly ducklings and later became beautiful women with accomplishments that made them noteworthy in their own right. Being daughters of presidents opened many doors that may have been closed otherwise. In addition to grand opportunities because of their names, they also had access to excellent educations, travel, and chances to meet some of the most important people in the world. The extent to which they took advantage of those benefits varied, just as their personalities varied.
1. Caroline Kennedy
Born in 1957, Caroline Kennedy was just 3 years old when she moved into the White House with her parents and baby brother, John Jr. As former President John F. Kennedy's daughter, much of her childhood was captured by the cameras as she played in the Oval Office, rode her pony Macaroni and smiled in her father's arms.
When her father was assassinated in 1963, Caroline moved with her mother and brother to Manhattan to live out of the spotlight. After earning a bachelor's degree from Harvard University, she attended law school at Columbia and graduated in 1988. Like John Jr., Caroline then went on to work in publishing—she interned for the New York Daily News and wrote for Rolling Stone—and even co-authored and authored several books. Then, in 1995, Caroline lost her mother Jacqueline Kennedy Onassis to cancer, which was followed by the tragic loss of her brother John in a plane crash in 1999.
In recent years, Caroline has become more active in politics, publicly endorsing President Obama and serving on his vice presidential search committee in 2008. Today, she lives in New York City with her husband, Edwin Schlossberg, and their three children.
2. Lynda Bird Johnson Robb
Lynda Johnson is the older of former President Lyndon B. Johnson's two daughters and was 19 when her father was sworn into office in 1963 after the assassination of John F. Kennedy. Lynda, whose Secret Service code name was Velvet, began a highly publicized relationship with actor George Hamilton in 1966. However, the couple soon went their separate ways, and Lynda married Marine Captain Charles S. Robb at the White House in 1967. The couple had three children.
It wasn't long after they were wed that Charles became the Governor of Virginia and also served two Senate terms. Lynda served as a contributing editor to Ladies Home Journal and got involved with the children's literacy organization Reading Is Fundamental. Today, she echoes her father's liberal politics as an outspoken supporter of universal healthcare and serves on the board of directors of the LBJ Foundation and the Lady Bird Johnson Wildflower Center.
3. Luci Baines Johnson Turpin
As the younger of President Johnson's two daughters, Luci Baines Johnson was just a teenager when her father took his oath. When she was 19, Luci—whose Secret Service code name was Venus—married Patrick Nugent in a high-profile Catholic wedding (a year before her older sister's marriage). The couple had four children before their divorce and annulment in 1979.
Luci is now married to Ian Turpin and lives in Austin, Texas. She is chairman of the board of LBJ Asset Management Partners and vice president of BusinesSuites, which both she and Ian own. In 2010, Luci was diagnosed with an autoimmune disorder called Guillain-Barré syndrome, which affects the nervous system. She received treatment at the Mayo Clinic before returning home to Austin.
4. Patricia Nixon Cox
Tricia Nixon had already graduated from college by the time her father, former President Richard Nixon, was inaugurated in 1969. Though she often accompanied the president on state visits and similar duties, Tricia was reported to be a relatively private person. Despite her reserved reputation, she married Harvard graduate Edward Cox in a large ceremony in the White House Rose Garden—President Nixon walked her down the aisle.
After giving birth to her son in 1979, Tricia stepped out of the spotlight. She continues to live a quiet life with her husband in Manhattan.
5. Julie Nixon Eisenhower
Julie Nixon, President Nixon's younger daughter, married David Eisenhower, the son of former President Dwight D. Eisenhower, just one month before her father took office. She was 20 years old.
While her father served as president, Julie worked at the Saturday Evening Post as assistant managing editor, and later wrote and edited several books, including a biography of her mother, Pat Nixon. After the Watergate scandal broke, Julie did not shy away from the press, giving several interviews in fierce support of her father. She stood beside him as he resigned from the presidency in 1974.
Today, Julie and David have retired and lived on a farm in Pennsylvania. She remains active with the Richard Nixon Foundation and enjoys writing and spending time with her three adult children.
6. Susan Ford Vance Bales
Susan Ford is the youngest of former President Gerald Ford's four children and his only daughter. Susan was 17 when her father became president in 1974 and spent her final adolescent years in the White House—she even had her senior prom in the East Room!
Weeks after her father's inauguration, Susan's mother, Betty Ford, was diagnosed with breast cancer. Susan soon began working with her mother to raise breast cancer awareness, and the two helped launch National Breast Cancer Awareness Month in 1984—and her health-related activism didn't stop there. When Betty sought treatment for alcoholism and subsequently founded the Betty Ford Center, Susan became a member of the board of directors in 1992 and board chairman in 2005.
In the midst of her activism, Susan also worked as a photojournalist for organizations including the Associated Press and Newsweek and co-authored two mystery novels. After marrying Charles Vance, one of her father's former Secret Service agents, in 1979, Susan had two children. The marriage lasted nine years before the couple divorced, and Susan married Vaden Bales, an attorney. Today, the two live in Tulsa, Oklahoma.